Wi-fi Service

Free Wi-Fi is available on Keihan 8000 and 3000 series trains.
Use Keihan Free Wi-Fi while travelling! Wi-Fi equipment located on the trains provides internet connections while the train is moving and stopped. The maximum time for each connection is 90 minutes.
Wi-Fi equipped trains: Keihan 3000 and 8000 series trains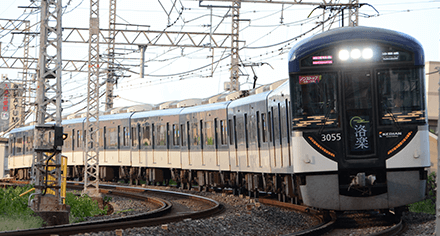 A 3000 series train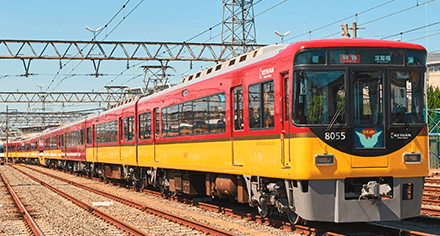 An 8000 series train
How to connect to Wi-Fi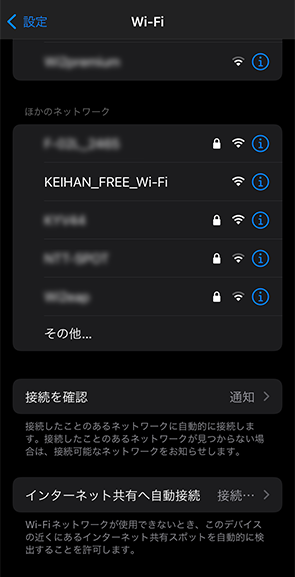 Step 1
Select KEIHAN_FREE_Wi-Fi

Step 2
When the portal screen appears, tap "Connect to the Internet."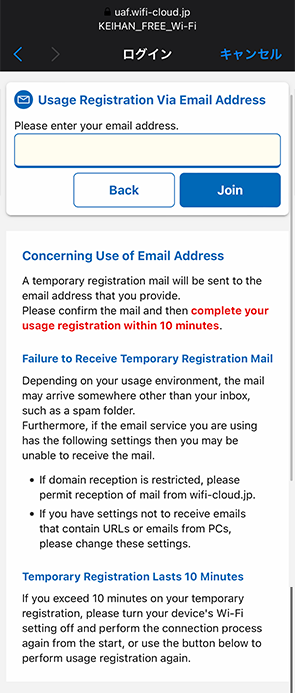 Step 3
Enter your e-mail address to register and tap the "Confirm" button.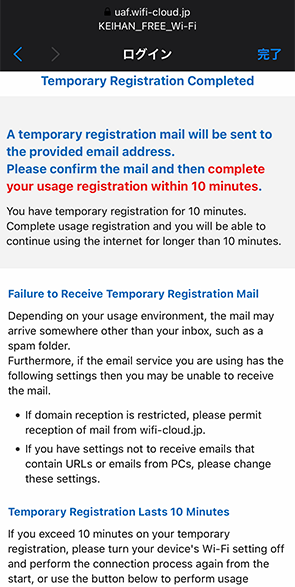 Step 4
You are now connected.
1. If the portal screen does not appear, access it with the following URL: http://www.wifi-cloud.jp/keihan_premium/lang_redirect.php
2. An e-mail will be sent to your e-mail address with the registration URL. If you are using an e-mail filter, add @wifi-cloud.jp to your safe list.
Note: Connection speeds may vary depending on internet traffic and other factors.
Foreign currency
exchange machines
Foreign currencies
Australian dollar, Chinese yuan, euro, Hong Kong dollar, Indonesian rupiah, Malaysian ringgit, New Taiwan dollar, pound sterling, Singapore dollar, South Korean won, Thai baht, United States dollar
Machine locations
Kyoto
Fushimi-inari (KH34)
Near the center of the Kyoto-bound platform
Kiyomizu-gojo (KH38)
The concourse outside the Osaka-bound ticket gate
Uji (KH77)
First floor of the Keihan Uji Building (next to the tourist information center)
Shiga
Biwako-hamaotsu (OT12)
The concourse outside the ticket gate (in the ticket vending machine area)
Hours of operation
5:00–24:00 (all year round)
Maximum exchange amount
Up to 100,000 yen per exchange
Notes:
1. This money exchange service is available only from foreign currency bills to Japanese yen.
2. Foreign exchange rates change daily and include an exchange convenience fee.