The Eizan Electric Railway, or Eiden, operates train lines in an area known as Rakuhoku in northern Kyoto.
Eiden operates two lines, the Eizan Main Line, which departs from Demachiyanagi Station near the center of Kyoto for Mount Hiei, and the Kurama Line, which travels to the KURAMA & KIBUNE area. There are many locations along the lines with stunning nature and rich history, and the scenery is a complete change from the city center.
One of the delights of Kyoto is how dramatically the scenery changes from season to season. It is well worth the trip for such seasonal features as Kawadoko (dining at the riverside) in summer and the colors of the trees in fall.
Eizan Electric Railway Line Map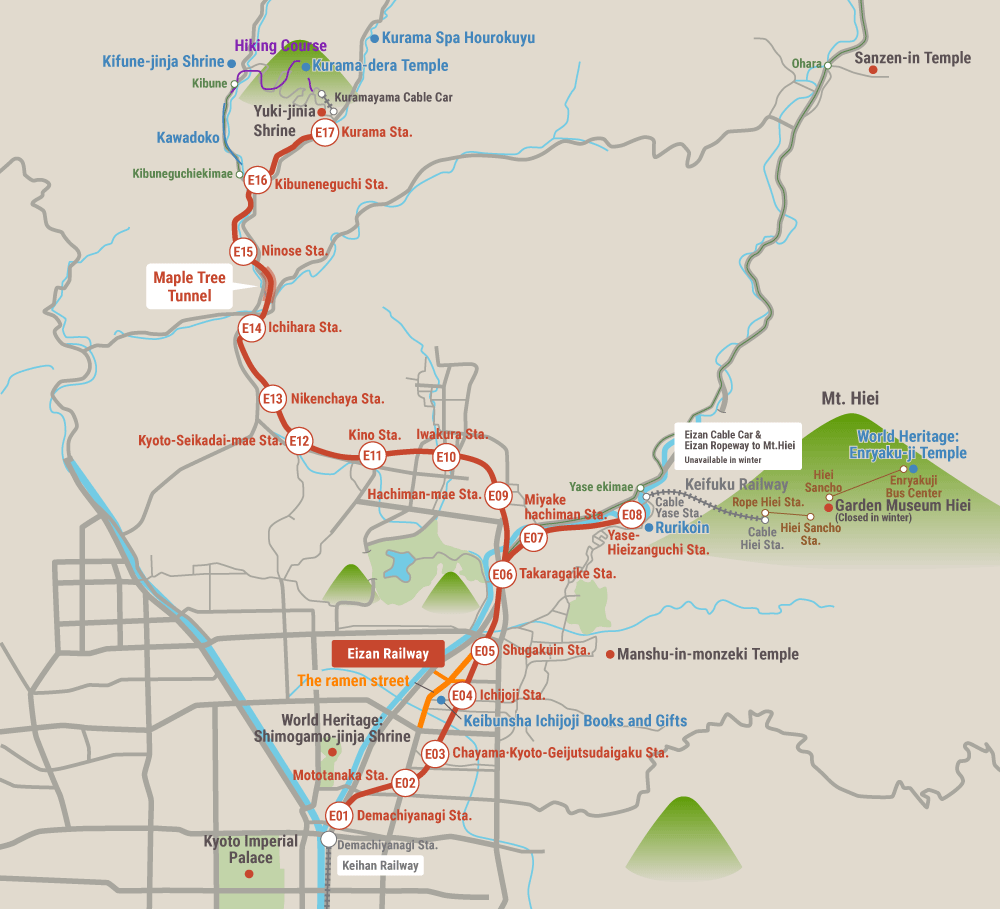 KURAMA & KIBUNE area
Click here for an introduction
to the KURAMA & KIBUNE area
Hiking at KURAMA & KIBUNE
The KURAMA & KIBUNE area is a popular destination for hiking. One well-walked route starts at Kurama Station and goes to Kurama-dera Temple. From there, the route passes along a path known as Kinone Michi to Kifune-jinja Shrine before ending at Kibuneguchi Station. As most of the path is maintained and the hike is gentle, the two-hour walk is popular even among novice hikers. For enjoyment of both the culture of Japan and the nature of Kyoto, this route is highly recommended.
Kurama-dera Temple

Kinone Michi

Kifune-jinja Shrine
Mount Hiei area
Enryaku-ji Temple

At the summit of Mount Hiei is Enryaku-ji Temple, a UNESCO World Heritage Site. With deep ties to Buddhism, this temple was built in 788, and is known, along with Kongobu-ji Temple on Mount Koya, as one of Japan's holy sites of Buddhism.

The Enryaku-ji grounds on Mount Hiei are vast and encompass many temple buildings. While Konpon-chudo is known as the primary structure, there are many other buildings that can be visited by bus or on foot.

Suggested route: One-day Mount Hiei sightseeing route

Getting there: Get off the Eiden Main Line at Yase-Hieizanguchi Station (E08) and take the Eizan Cable and the Eizan Ropeway (aerial tram) to the summit. From there, transfer to the bus.

Rurikoin Temple

The temple grounds at Rurikoin include both a private home and a Japanese garden, but they are open to the public for limited periods in the spring and autumn to share the beauty that has made it such a popular destination. The green maples in spring and the brilliant red maples in autumn are spectacular sights. A place worthy of particular note is the second floor of the temple where the outside colors tint the furniture and flooring inside, a view that alone makes the trip worthwhile.

Getting there: About a five-minute walk from Yase-Hieizanguchi Station (E08) on the Eiden Main Line.
Click here to learn more about the Mount Hiei area
Other great places to visit
along the Eiden train line
There are many other great places to visit in the KURAMA & KIBUNE area along the Eiden rail line. In addition to sightseeing, the area is known for its fiercely competitive ramen shops, where customers wait in line just to get a bowl of their favorite ramen. Time your sightseeing so you can savor some of these delicious noodles!
Maple Tree Tunnel

Between Ichihara and Ninose Stations on the Eiden Kurama Line is a section of track known as the Momiji Tunnel. About 280 maple trees have been planted over a 250-meter interval, creating a tunnel of green maple trees at the start of summer that turns brilliant colors in fall. The tunnel is particularly magnificent when viewed from a car, and in autumn, illumination at night turns the tunnel into an evening wonder.

Keibunsha Ichijoji Books and Gifts

A book-lover's bookshop, Keibunsha curates its books, each carefully considered, selected and arranged by the bibliophile staff. In 2008, Britain's Guardian newspaper selected Keibunsha ("Keibunsya") as one of the top 10 bookshops in the world. Art lovers will also love browsing the art gallery. Even if you don't read Japanese, the inviting storefront and cozy interior are very charming.

Suggested route: The Kyoto Connoisseur's Guide to Kyoto

Getting there: A short walk from Ichijoji Station (E04) on the Eizan Main Line.
A full lineup of the top
ramen spots! Ramen Street
As an affordable-yet-delicious meal, ramen has long been popular with the younger generations of Kyoto, which has a high student population. The Ichijoji area in particular is home to Ramen Street, so-called for the numerous famous ramen restaurants which are clustered along it.
Gokkei

The ramen broth is clear white, but hearty, flavorful, and so thick it is almost like a porridge. Among the offerings of this popular ramen shop is its "aka daku," a ramen dish colored red with an abundance of red chili pepper.

Getting there: About a five-minute walk from Ichijoji Station (E04) on the Eizan Main Line.

Takayasu

The most popular food items at this restaurant are the ramen, with clear white broth made with pork bones and chicken carcass, and the karaage (fried chicken). The suji (sinew) ramen is highly recommended, but visitors should arrive early because it sells out quickly. Takayasu is open until 2 a.m.

Getting there: About a four-minute walk from Ichijoji Station (E04) on the Eizan Main Line
Recommended passes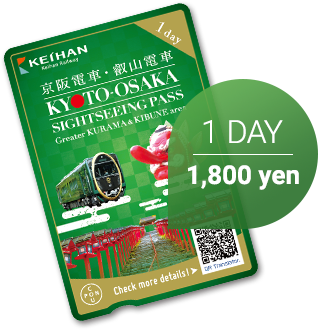 KYOTO-OSAKA SIGHTSEEING PASS
(Greater KURAMA & KIBUNE area)
This pass provides one day of unlimited rides on Keihan Electric Railway and Eizan Electric Railway. With the Eiden coverage, you have an extensive area for traveling from Osaka to central Kyoto, as well as the north part of Kyoto. The pass includes benefits you can use at Kurama-dera Temple.
One-day recommended itinerary
The Kyoto Connoisseur's Guide to Kyoto
A Stroll of Elegance and Tranquility in Rakuhoku
This itinerary starts at Demachiyanagi Station on the Eizan Main Line and proceeds to the KURAMA & KIBUNE area. The return journey includes visits to a popular bookstore, a ramen shop, Manshu-in Temple, and more. Using a day pass, this itinerary is filled from morning to evening with sightseeing, shopping, dining, and other fun.
Getting from Kyoto Station
to Demachiyanagi Station
One convenient way is to take the JR Nara Line from JR Kyoto Station to Tofukuji Station and then transfer to the Keihan Electric Railway bound for Demachiyanagi Station.
Kyoto

Station

JR Nara LineApprox.3 min.
Tofukuji

Station

Keihan RailwayApprox.16 min.
Demachiyanagi

Station