In addition to use of Keihan Electric Railway, the KYOTO-OSAKA SIGHTSEEING PASS (Greater KURAMA & KIBUNE area) provides unlimited rides on Eizan Railway, which operates in the greater Kurama and Kibune area. The Kurama and Kibune area is in the northern part of Kyoto and is home to such historical temples and shrines as Kurama-dera Temple and Kifune-jinja Shrine. The changing scenery will entice you back again and again to see how the area transforms through the four seasons of the year.
Eizan Railway official website
KYOTO-OSAKASIGHTSEEING PASS
(Greater KURAMA & KIBUNE area)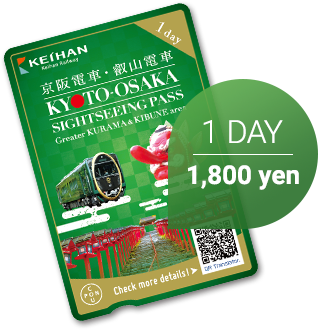 Note: These prices are valid for purchases in Japan. Please note that different prices apply when purchased from
a local travel agent or other seller outside of Japan.
Recommended retail price for overseas travel agencies: 1,700 JPY. The retail price may vary depending upon local exchange rates, etc.

Special Coupons

Show this ticket at a variety of locations to receive special discounts, services, and gifts!
For details, please scan the QR printed on the front of the pass.
Details
Sales period

April 1, 2023 to March 31, 2024
(Valid for use until April 30, 2024)

Price

1,800 yen


*Price when purchased overseas: 1,700yen

Valid period

One day (the day of use)

Valid area

Keihan Main Line (Otsu Line not included)
Uji Line
Katano Line
Iwashimizu-hachimangu-sando-cable Line
Eizan Railway
Benefits

Keihan Electric Railway coupons
Eizan Railway coupons

How to use
the pass benefits

Keihan benefits: Receive special perks as indicated by the coupon information on the front of the pass.
Eizan benefits: Show your pass at the time of use
Sales Locations
If you have already purchased your pass from an overseas travel agent or other location
Click here for instructions on doing an exchange with a QR code and for exchange locations.
Notes:
- This pass is only available for foreign tourists who have entered Japan under the Temporary Visitor status.
- Not for sale at Keihan Railway stations.
- Refer to the place of purchase for refund information.
Tourist Information Centers

Kansai Tourist Information Center
at Kansai International Airport Terminal 1
Exchange hours: 7:00 to 22:00

Osaka

> Website

Location Osaka

Arrow

KYOTO-OSAKA SIGHTSEEING PASS


(Greater KURAMA & KIBUNE area)

Available

Kansai Tourist Information Center at Kyoto
Exchange hours: 10:00 to 18:00

Kyoto

> Website

Location Kyoto

Arrow

KYOTO-OSAKA SIGHTSEEING PASS


(Greater KURAMA & KIBUNE area)

Available
Hotels

Kyoto Tower Hotel

Kyoto

Location Kyoto

Arrow

KYOTO-OSAKA SIGHTSEEING PASS


(Greater KURAMA & KIBUNE area)

Available

Kyoto Century Hotel

Kyoto

Location Kyoto

Arrow

KYOTO-OSAKA SIGHTSEEING PASS


(Greater KURAMA & KIBUNE area)

Available

THE THOUSAND KYOTO

Kyoto

Location Kyoto

Arrow

KYOTO-OSAKA SIGHTSEEING PASS


(Greater KURAMA & KIBUNE area)

Available