Before Riding the Train
Please purchase a ticket before riding the train. If you have an IC card (such as ICOCA or Suica), you don't need to purchase a ticket. Just make sure you have it charged beforehand and touch it to the ticket gate.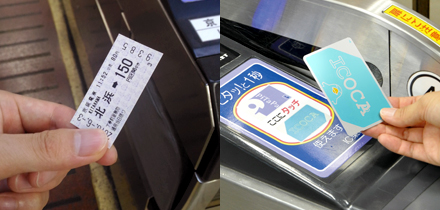 If you mistakenly purchase the wrong ticket, please tell a member of staff before riding the train.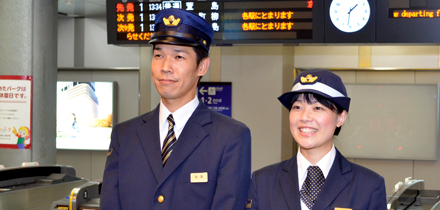 How to use the Ticket Machine
You can purchase tickets at either green or blue touch-panel ticket machines.
Please pay in cash when purchasing tickets (valid only on the day of purchase; credit cards are not accepted).

Language selection (Japanese/English)

Child fare button

Coin slot

Bill slot

Ticket slot

Change slot

1

Confirm the price of your destination station on the fare table located above the ticket machines.
Black-colored numbers are fares for adults, and red-colored numbers are for children.

2

Press the "English" button on the top-right of the screen in order to proceed with the ticket-purchasing process in English.

If you wish to purchase a child ticket, press the "Child" button
Adults and Children
12+ years old

(Junior high school student or older)

6–11 years old

(Elementary school students)

As a child, the fare is half of the adult fare. However, total prices are rounded up to the nearest multiple of 10.
Example: A child ticket for a 150-yen travel distance: 150 ÷ 2 = 75. The fare is rounded up to the nearest multiple of 10 for a price of 80 yen.

1–5 years old

When traveling with a passenger 6 years of age or older who holds a fare ticket, up to 2 infants may ride for free.
Child fare must be paid in the following cases:

1. When there are more than 2 infants.
2. When an infant is traveling alone.
3. When an infant is traveling in a group of infants, or when traveling with a group of adults and children.

Less than 1 year old

Babies may ride for free.