About Keihan's Lines
Keihan's lines connect Kyoto, Osaka and Shiga (Otsu). Along our lines, you can find many great sightseeing locations, including Osaka Castle, Fushimi Inari Taisha Shrine, Gion, Kiyomizu Temple and Shimogamo Shrine. In addition to the Keihan Main Line that connects Osaka and Kyoto, Keihan's lines include the Uji Line that goes to Byodo-in Temple, the Otsu Line which runs along Lake Biwa to connect Kyoto and Shiga, and other lines. It takes about 50 minutes with no transfer to travel from Osaka to Kyoto by limited express train. With convenient connections to JR, the Osaka City Subway, the Kyoto Municipal Subway and other lines, Keihan is an essential part of your sightseeing journey in Kyoto, Osaka and Shiga.
Railway Map

A guide to the areas serviced by Keihan. Keihan's access to Kansai International Airport and the Shinkansen lines makes travel easy and convenient.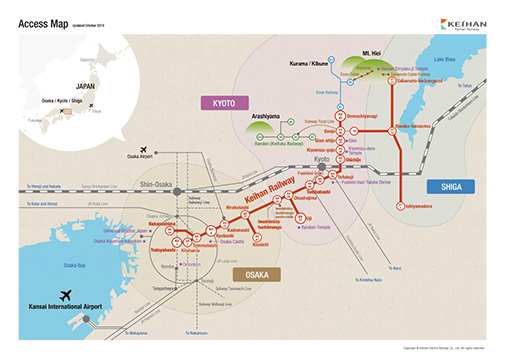 Route Map and Stations
Look up route information. In addition to information about express and other train types and where they stop, find transfer information for JR, subways, Kintetsu, Eizan and other railways.
<!- /box-01 ->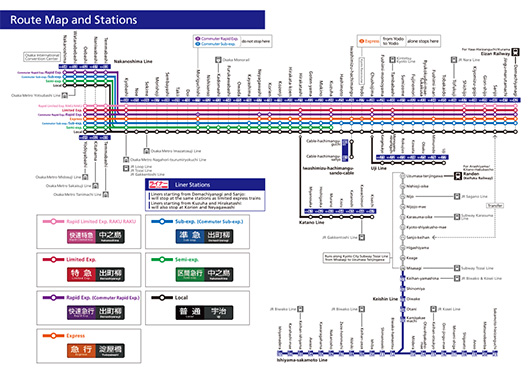 Other Keihan Group Routes
Randen - Arashiyama Electric Tram Railway

(Keifuku Electric Railroad)

This is the last train in Kyoto that runs on surface roads. It is an excellent way to see the sights, from Omiya in Shijo, the heart of the city, to Arashiyama, the foremost place in Japan to visit. The train tracks take visitors to five World Heritage Sites, including Kinkaku-ji (Temple of the Golden Pavilion) and Ryoan-ji Temple. Package fares are available, including an all-day pass for 500 yen (all lines included!) and a pass with a discount on temple and shrine admissions. The old-fashioned train brings a feel of the past. Get ready to be excited by the old capital of Kyoto!

Eizan Electric Railway

Eizan Electric Railway has two lines, the Eizan Main Line starting at Demachiyanagi Station and traveling to Ohara and Mount Hiei, and the Kurama Line which services the Kibune and Kurama area, called the "drawing room of Kyoto." With cherry blossoms and green growth in spring, cool evenings in summer, colorful tree foliage in fall and snowy landscapes in winter, Kibune and Kurama bring you close to the four seasons of northern Kyoto. Filled with places that are off the beaten path, the Eizan lines are favorites among those who know the ins and outs of Kyoto.