If you have already purchased a pass for visitors to Japan and have an exchange QR code,
you can use it at one of the exchange locations listed below to pick up your pass.
Step

Please come with your QR code ready.
You can bring a paper printout or just present the screen of your mobile device showing the QR code.

Step

Present your QR code to a representative
at the exchange counter.

QR codes can be used for the following passes:

KYOTO-OSAKA SIGHTSEEING PASS (1day or 2day)
KYOTO SIGHTSEEING PASS (1day)
KYOTO-OSAKA SIGHTSEEING PASS
(Greater KURAMA & KIBUNE area)
KYOTO-OSAKA SIGHTSEEING PASS (for Hirakata Park)
Exchange locations
Keihan stations
Exchange hours: Between the first and last train departures of the day

*Note: The Premium Car icon

in the linked PDF indicates Premium Car ticket windows.
Premium Car ticket window

Station office
Keihan Tourist Information Center Gion-shijo
Exchange hours: 9:30 to 18:00
Location: Right outside the ticket gate of Keihan
Gion-shijo Station (KH39) (Station Map PDF)
Precautions when making an exchange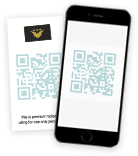 1. An exchange QR or authentication code can be used only once to make an exchange for a pass. Used codes cannot be used for an exchange. Contact your sales travel agency for further details.
2. No pass refunds or changes will be made.
3. Passes will not be reissued if lost.
4. A separate charge will incur for travel outside of the valid area or when boarding the Premium Car.
5. When the valid period expires, the pass becomes invalid.