In Kyoto, there are streetcar lines affectionately known by Kyoto residents as the Randen. Officially known as the Keifuku Electric Railroad, the Randen consists of two lines, the Arashiyama Main Line and the Kitano Line. The train lines were constructed to provide access to the scenic sites in western Kyoto and Arashiyama. They provide access to World Heritage Sites such as Ninna-ji and Kinkaku-ji Temples, as well as other shrines and temples with famous Zen rock gardens, known in Japanese as karesansui. The karesansui is a garden style built primarily with rocks, trees and bushes. No ponds, streams or other water is allowed. The Zen garden was developed through the efforts of Zen monks to express with symbolism the spiritual state of mind they had achieved. One of the core teachings of Zen is koji kyumei, a concept expressing the journey of discovering and coming to know the self. We invite you to seat yourself in one of these gardens of enlightenment and find the true you. We have compiled a sample itinerary you can do using a Randen All-Day Pass.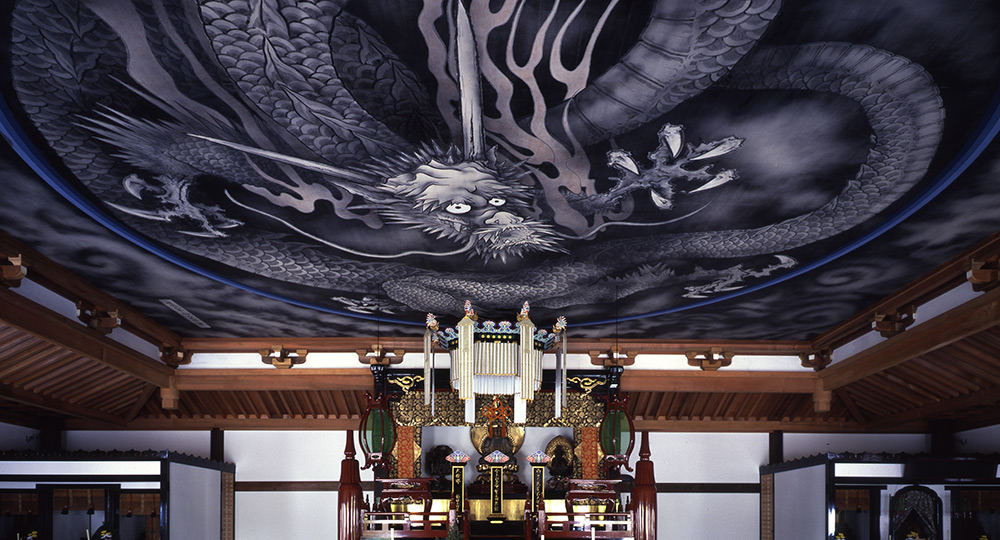 Randen All-Day Pass

The Randen All-Day Pass allows you to take unlimited rides on the Arashiyama Main and Kitano Lines for one day. Special benefits the pass provides include a footbath in Arashiyama Station and access to various discounts and specials at some 30 shrines, temples and tourist facilities along the Randen train lines.
Price: Adults – 500 yen, children – 250 yen
Sales locations: This pass can be purchased online or in-person through participating travel agencies. (It is not sold at station offices or ticket kiosks.)

Kyoto Subway Randen All-Day Pass

The Randen All-Day Pass allows you to take unlimited rides on the Randen (Arashiyama Main and Kitano Lines) and the Kyoto Municipal Subway (Karasuma and Tozai Lines) for one day. Choose this pass to explore all four corners of Kyoto.
Price: 1,000 yen
Sales locations: Shijo Omiya, Katabiranotsuji, Arashiyama, and Kitanohakubaicho – the four major Randen stations – as well as at the Kyoto Municipal Transportation Bureau.
Travel Schedule
Shijo Omiya Station

Shijo Omiya Station gets its name from its location at the intersection of Shijo and Omiya Streets. As Omiya is a traditional word for the empress, Omiya Street is the street of the empress. In the Heian Era, Omiya Street was called Omiya Oji (thoroughfare of the empress), and was traditionally one of the most important roads. The intersection with Shijo Oji also made the road a principal road. The Randen Shijo Omiya Station is connected with Shijo Omiya Station on Hankyu Railway, a convenient transfer location. The historical Mibu quarters, where the Shinsengumi special forces were formed at the end of the Edo Period, is located nearby as is Mibu-dera Temple, which has connections to the Shinsengumi. For those with an interest in Japanese history, this is a great place to stop.
Depart from Shijo Omiya Station. Transfer to the Kitano Line at Katabiranotsuji Station
9:26 Arrive at Ryoanji Station
On foot, approximately 8 minutes
Ryoan-ji Temple

Constructed in 1450 under the Myoshin-ji sect of the Rinzai school of Buddhism, Ryoan-ji Temple is registered as a UNESCO World Heritage Site. Of particular note is the rock garden, which is viewed from the veranda of the abbot's residence. Among the white sand that covers the garden, 25 meters in width and 10 meters deep, are 15 rocks scattered in five locations in an apparently simple design. However, no matter your location on the veranda, you cannot see all of the rocks. This arrangement captures the concept of completeness, which in Eastern thinking is represented by the number 15, and as humans are not perfect, the inner eye must be used to view all of the rocks. The garden is also referred to as the Garden of the Crossing of Baby Tigers, as the arrangement is said to represent a tiger leading its offspring across a great river. Other interpretations of the garden are that it represents islands floating in the sea or a constellation in the sky. Not only the intended purpose of the garden, but the person who created it as well as when it was built are unknown, making this perhaps the ultimate karesansui.

Address:

13 Goryo no Shita-cho, Ukyo-ku, Kyoto

Visiting hours:

8:00 a.m. to 5:00 p.m. (8:30 to 4:30 December to February)

Admission:

Adults – 500 yen, elementary and junior high school students – 300 yen

Telephone No.:

Benefit:

Randen All-Day Pass benefit: 10 percent off the admission price
10:46 Depart from Ryoanji Station
10:47 Arrive at Myoshinji Station
On foot, approximately 3 minutes
10:50 Arrive at Myoshin-ji Temple
Myoshin-ji Temple

This is the head temple of the Myoshin-ji sect of the Rinzai school of Buddhism. The temple was founded in 1337 when Emperor Hanazono converted his imperial villa into a Zen temple. Today, the Myoshin-ji Temple grounds comprise 46 temples on a vast mountain territory, and the sect has more than 3,400 temples around the world with some 7,000 resident monks. The only building on the grounds covered with vermilion lacquer, Sanmon is a gate built in 1599 that is recorded as signifying the Zen state of mind, that is, empty, free of any thoughts and inactive. On top of the gate tower are statues of Guanyin Bodhisattva (Kannon) and the 16 arhats (arakan), and images of heavenly beings (hiten), a phoenix and a dragon are depicted in vivid colors on the columns and beams. On the ceiling of the lecture hall is a picture of a dragon, created by the brush of Kano Tanyu over a period of eight years.

Address:

64 Hanazono Myoshinji-cho, Ukyo-ku, Kyoto

Visiting hours:

Guided tours are provided every 20 minutes between 9:10 and 11:50 a.m. and between 1:00 and 3:40 p.m., as well as at 12:30. Between March and October, the hours are extended until 4:40 p.m.

Admission:

Adults – 500 yen, junior high and high school students – 300 yen, elementary school students – 100 yen

Telephone No.:

Benefit:

Randen All-Day Pass benefit: 10 percent off the admission price
Taizo-in Temple at Myoshin-ji

A small temple, Taizo-in was built in 1404 and is one of the most well-known temples on the Myoshin-ji Temple grounds. Motonobu-no-niwa, created by Kano Motonobu, is a karesansui garden on the grounds that incorporates rockwork and hedging to create a realistic feeling of depth. White sand creates artistic curved lines. This garden is typical of Kano, who established the Kano school of painting, and has a style that can be appreciated by all. Other attractions that should not be missed include Yoko-en, a garden that took three years to complete and typifies the Showa Era, and Hyoenzu, a painting that is a National Treasure and is representative of the early period of sumi paintings.

Address:

35 Hanazono Myoshinji-cho, Ukyo-ku, Kyoto

Visiting hours:

9:00 a.m. to 5:00 p.m

Admission:

Adults – 500 yen, elementary and junior high school students – 300 yen

Telephone No.:

Benefit:

10 percent off the admission price
Lunch: Kyoto cuisine at Mancho

Located at the North Gate of Myoushin-ji Temple, Mancho is a restaurant that has been specializing in Kyoto cuisine for nearly 80 years. The third-generation owner is dedicated to his craft, working with the slogan of "creating the flavor of Kyoto from the heart" so customers can enjoy authentic local food at reasonable prices. Among the favorite menu selections are the Tsurezure Bentos, made from fresh, seasonable ingredients and arranged in an aesthetically pleasing manner.

Address:

24 Taniguchisono-machi, Ukyo-ku, Kyoto

Hours:

11:00 a.m. to 9:00 p.m.,
Reservations required after 5:00 p.m.

Telephone No.:
12:57 Depart from Myoshinji Station to Katabiranotsuji Station, then transfer to the Arashiyama Main Line for Rokuo-in Temple
13:09 Arrive at Rokuouin Station
On foot, approximately 4 minutes
13:13 Arrive at Rokuo-in Temple
Rokuo-in Temple

Rokuo-in Temple was built in 1380 as a Zen temple by Ashikaga Yoshimitsu, third shogun of the Muromachi Era, to pray for his longevity. It is well known as number five on the list of Kyoto's 10 Monasteries. Shariden is a garden created here in the early Edo Period. Without using hillsides or digging a pond, the garden was built on a flat plot of land for a level garden, retaining the original landform and effusing an atmosphere of tranquility. Far in the distance from the building that reflects the green of moss and trees, the gentle mountain figure of Arashiyama can be seen. Shariden Garden incorporates this as a feature in a style known as shakkei or borrowed landscape. In the foreground is characteristic rockwork composed of three large rocks. On the stone-paved approach from Sanmon Gate with its beautiful bamboo grove, there are many maple and camellias planted, creating an enjoyable contrast to the bamboo in every season.

Address:

24 Saga Kitabori-cho, Ukyo-ku, Kyoto

Visiting hours:

9:00 a.m. to 5:00 p.m.

Admission:

Adults – 400 yen, elementary and junior high school students – 200 yen

Telephone No.:

Benefit:

Randen All-Day Pass benefit: 10 percent off the admission price
13:59 Depart from Rokuouin Station
14:02 Arrive at Arashiyama Station
On foot, approximately 4 minutes
14:05 Arrive at Tenryu-ji Temple
Tenryu-ji Temple

This temple was constructed in 1339 by Ashikaga Takauji, who was victorious in battle in the Nanboku-cho Period, to provide memorial services to all whose lives were sacrificed, enemy and ally alike. A Zen temple typical of that era, Tenryu-ji Temple has suffered multiple fires in times of conflict. Most of the temple buildings were reconstructed during the Meiji Period. This is the head temple of the Tenryu branch of Rinzai Zen Buddhism, and rigorous training continues here to this day. Sogen Pond Garden, located behind the large abbot's chamber, incorporates Kameyama and Arashiyama into the scenery to enhance the beauty of the pond and features a bold style. The dry waterfall rock formation known as Ryumonbaku on the opposite side of the pond is said to be in the early karesansui style.

Address:

68 Saga Tenryu-ji Susuki no Baba-cho, Ukyo-ku, Kyoto

Visiting hours:

8:30 a.m. to 5:30 p.m. (to 5:00 p.m. between October 21 and March 20)

Admission:

Adults – 500 yen, elementary and junior high school students – 300 yen
Entrance to the main hall and the lecture hall (with the dragon picture) is separate

Telephone No.:

Benefit:

Randen All-Day Pass benefit: a complimentary Zen bookmark

Hannari Hokkori Square at Arashiyama Station

Leaving Tenryu-ji Temple behind, return to Arashiyama Station and take a break! In the summer of 2013, Arashiyama Station underwent remodeling and was reborn as a public space with a design that invites people to come and go as they please. In addition to a footbath using natural hot spring water, the area includes shops selling traditional Kyoto-style confections and pickles, Japanese variety shops, natural cosmetics produced in Kyoto, chic coffee shops and a donburi restaurant, a wonderful mix of sophistication and fun. The atmosphere is filled with excitement, making shopping like an exploration.

If you wind up buying more than you had planned, don't worry, Yamato Transport (look for the black cat logo) has a counter and will take care of delivery (business hours apply). They will deliver same day or also hold on to your luggage while you shop. Other great options include rental bikes and rickshaw rides to better enjoy Saga and Arashiyama with all they have to see.

In addition to enjoying shopping to your heart's content, visit the many excellent sightseeing spots at Arashiyama Station. You will see people taking commemorative pictures on the station platform next to the train with wrap advertising, as well as others using the Aigo water that wells up from the ground at Arashiyama Station or praying at Dragon Aigo Pond, with a dragon ball rivaling that of Tenryu-ji Temple, for a safe journey. The Kimono Forest, made up of about 600 pillars wrapped in yuzen cloth to create a unique atmosphere around the station, encompasses the area in a warm light at night, giving the station a mysterious air.

Sweet treats at Arinco

To stave off hunger, try a highly recommended dessert. The roll cake from Arinco is made from pure white cake with a springy texture that is wrapped around puffy whipped cream. The three Kyoto roll cakes are particularly recommended, coming with Kyoto ingredients such as matcha. Another treat is a sandwich made from the cake dough that you can eat while walking. It's excellent for a stroll around Arashiyama!

Address:

20-1 Saga Tenryuji Tsukurimichi-cho, Ukyo-ku, Kyoto
On the first floor of Hannari Hokkori Square at Keifuku Arashiyama Station

Hours:

Late December to mid March: 10:00 a.m. to 6:00 p.m.
Mid March to late December: 9:00 a.m. to 10:00 p.m.

Telephone No.:
Hogon-in Temple

Note: Special openings in spring and fall only.
Hogon-in Temple is one of the branch temples of the Tenryu sect. The garden named Shishiku no Niwa was created in the Muromachi Era (1336–1573) and means "teaching by the Buddha" (literally, "roar of the lion"). Take a stroll through the garden grounds, listening to the sounds of the birds and the wind, reflecting on truth and feeling the path of righteousness flow through your body. This is the teaching of silence, and this garden is an excellent place to soothe the mind. One of the features of the garden is the Shishi Rock, a large object that appears in the eye to be the figure of a lion (shishi). Skillfully incorporating Arashiyama as borrowed landscape, this well-known landscaped garden has elegance and was even listed in Miyako Rinsen Myosho Zue, an Edo Period publication describing famous locations in Kyoto. Although this garden is particularly renowned for its fall colors, the cherry blossom trees and new growth in spring are also well worth the visit!

Zen sessions are held at Hogon-in Temple, free of charge, from 5:30 to 8:00 p.m. on the third Sunday of every month except August and November. The sessions are open to all. People wanting to participate should wear loose-fitting clothes such as a training outfit. After the two hours or so of Zen training, enjoy a 30-minute session of Buddhist teachings and conversation with tea. Those wishing to participate should arrive and register no later than 5:00 to listen to the instructions.

Address:

36 Saga Tenryu-ji Susuki no Baba-cho, Ukyo-ku, Kyoto

Visiting hours:

9:00 a.m. to 5:00 p.m. during the spring and fall special viewing seasons.

Admission:

Adults – 500 yen, elementary and junior high school students – 300 yen
Separate admission fee for the main hall

Telephone No.:

Benefit:

Randen All-Day Pass benefit: A complimentary postcard (during the special viewing season)

After visiting Hogon-in Temple, we recommend joining the Zen training session or taking a stroll around Arashiyama. When you return to Arashiyama Station around dusk, you will find that the appearance has completely changed, with the Kimono Forest lit up with LED light bulbs that bring out the Japanese aesthetic beauty. Each of the patterns is unique. Be careful that you do not lose track of time and miss your train!
20:10 Depart from Arashiyama Station
20:32 Arrive at Shijo Omiya Station
Area Map