The best places to go sightseeing in Kyoto can be seen using Keihan Electric Railway, a private railroad company with lines that connect Kyoto to Osaka and Shiga. To save on transportation while sightseeing, be sure to take advantage of Keihan Electric Railway's money-saving offers. Below is a suggested travel itinerary to effectively use the Keihan Electric Railway.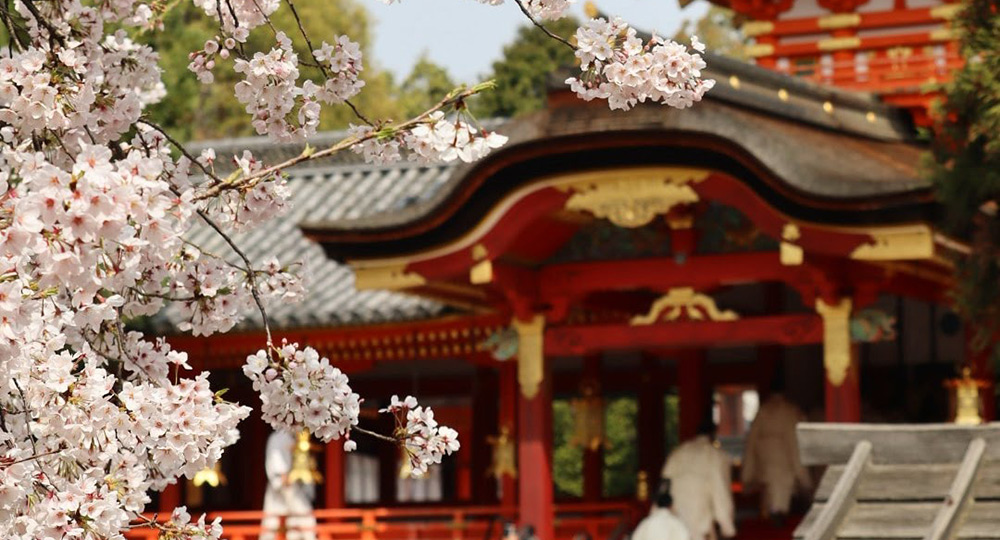 Travel Schedule
Walk from Kyoto Station to Shichijo

Travelers in Kyoto often use Kyoto Station as their point of departure. Walk north along the street that runs on the east side of Kyoto Tower, the symbol of Kyoto Station, and take the first right. After about 15 minutes (and passing over Shichijo Bridge along the way), you will arrive at the first sightseeing stop of the day: Sanjusangen-do Temple. It is easy to find because the streets in Kyoto are laid out in a grid form.
If you prefer to use the train from Kyoto Station, simply reverse the first and second stops on the itinerary. Start by taking the JR Nara Line to Tofukuji Station, and visit Tofuku-ji Temple. After that, take Keihan Electric Railway, which also serves Tofukuji Station, to Shichijo Station and proceed to Sanjusangen-do Temple.
A 10-minute walk
Sanjusangen-do Temple (Rengeo-in Temple)

Sanjusangen-do Temple was constructed in 1164 by order of Emperor Go-Shirakawa. Although officially known as "Rengeo-in" (Hall of the Lotus King), the temple's more common name Sanjusangen-do (hall of 33 spaces) comes from the fact that there are 33 spaces between the pillars in the main building. At the center of the main building is a thousand-armed Goddess of Mercy, and along the entire 120 meters of the building is an amazing display of thousand-armed Goddess of Mercy statues, some thousand in all, made of wood. Every year on the Sunday closest to January 15, an archery contest known as Yumi Hiki Hajime (first draw of the year) is held along the long main building. The thousand-armed Goddess of Mercy statues have different faces, and it is said that if you pray to meet someone, you will find that person's face among the statues.

Address:

657 Sanjusangen-do Umawari-cho, Higashiyama-ku, Kyoto, Kyoto Prefecture

Hours:

8:00 a.m. to 5:00 p.m.
(9:00 a.m. to 4:00 p.m. between November 16 and March).
Admission ends 30 minutes before closing time.

Admission:

Adults: 600 yen
Junior high and high school students: 400 yen
Elementary school students: 300 yen

Telephone No.:

URL:

http://sanjusangendo.jp/ - Japanese
From Shichijo Station, ride to Tofukuji Station. It is a five-minute walk.
Tofuku-ji Temple and Hojo Teien (Garden of the Abbot's Hall)

When the subject of famous places in Kyoto for autumnal leaves is brought up, Tofuku-ji Temple is the first name that comes to mind. The name Tofuku takes the first part of its name "to" from Todai-ji Temple for its massive scale, and "fuku" from Kofuku-ji Temple for its teachings and practices. Although formerly known as a place for cherry blossoms, the monks cut down the cherry blossom trees in the Muromachi period because of concerns that admirers would disturb their practice. In their place, maple trees multiplied until they reached the count today of some two thousand.
In fall, many tourists come to Tsuten-kyo Bridge, the crossing of which is like crossing a sea of beautiful autumnal leaves. When you stand on the bridge, the colorful leaves completely blanket the ravine, a scene so astounding, it will take your breath away. But the autumn foliage is not the only wonderful thing to see at Tofuku-ji Temple. Garden of the Hojo (the Abbot's Hall), made up of gardens surrounding the building to the east, west, south and north, is famous worldwide as an ideal example of modern Zen gardens.
The North Garden, with its vividly colored moss and paving stones arranged in a checkered pattern, and the South Garden with its dynamic dry landscape representation of Shinsen-to Island, where the immortal sennin are said to live, are both novel and modern.

Address:

15-778 Honmachi, Higashiyama-ku, Kyoto, Kyoto Prefecture

Hours:

April to end of October: 9:00 a.m. to 4:00 p.m.
November to early December: 8:30 a.m. to 4:00 p.m.
Early December to end of March: 9:00 a.m. to 3:30 p.m.

Admission:

There is no admission charge to the grounds.
Admission for Tsuten-kyo Bridge, Kaisan-do Hall, Garden of the Hojo (the Abbot's Hall):
Adults: 1,000 yen
Elementary and junior high school students: 500 yen

Telephone No.:
From Tofukuji Station, ride to Fushimi-Inari Station. It is a five-minute walk.
Fushimi Inari Taisha Shrine

The head Inari shrine of some 30,000 smaller shrines throughout Japan dedicated to Inari Okami, who is responsible for bountiful grain harvests. During the traditional New Year's shrine visiting season, it gets the most pilgrims of any shrines and temples in the Kinki region. Mount Inari has more than five thousand bright scarlet-orange torii gates lined in a row, a wondrous sight. As the fox is the divine messenger at Fushimi Inari Taisha Shrine, fox statues can be found on both sides of the large two-story gate, and look for ema votive plaques featuring foxes as well. On the shrine grounds is a stone dragon that divines whether people will achieve their heart's desire. Come to Fushimi Inari Taisha and try your luck!

Address:

68 Fukakusa Yabu no Uchi-cho, Fushimi-ku, Kyoto, Kyoto Prefecture

Hours:

8:30 a.m. to 4:30 p.m.

Telephone No.:

Admission:

Entrance to the shrine grounds is free.

URL:
Lunch: two recommended restraurants

Kaiseki Café Akichi

The interior features from the Taisho Period (early twentieth century) and French antique furniture envelope this small restaurant-cafe with a nostalgic air. The kaiseki lunch special changes each month to feature seasonal food. Filled with fresh ingredients to match the season, the kaiseki lunch special is created with a playful heart and may feature a bit of humor or a surprise such as a special spice. There are many items based on a frog theme hidden around the restaurant. See how many you can find! Aesthetically pleasing, delicious, fun and easy on the pocketbook, this kaiseki café is an excellent choice. And remember to check out their dessert and café menu items.

Address:

31-13 Fukakusa Ichinotsubo-cho, Fushimi-ku, Kyoto
(just to the north, outside of the east exit of Keihan)

Hours:

Lunch from 11:30 a.m. to 1:30 p.m.

Closed:

Mondays, holidays and the first of the month

Telephone No.:

Price:

Kaiseki lunch: 2,000 yen (reservations are recommended as it is popular), curry lunch: 1,000 yen

URL:

http://www8.plala.or.jp/cafe-akichi/ - Japanese

Handmade Udon – Kendonya

This restaurant specializes in handmade udon boiled in a pressure cooker. Using a unique brand of wheat flour, Kendonya creates udon noodles with the same homemade technique employed to make Sanuki udon, with its characteristic springy texture. Their broth is created daily with an abundance of bonito flakes and kombu kelp, and without any chemicals or preservatives. The owner is full of hospitality, welcoming the true udon fan, and does not charge for extra noodles (either an extra half or extra whole serving upon request). In addition to udon, Kendonya also serves soba and rice dishes so customers can mix and match as they please.

Address:

41 Fukakusa Ichinotsubo-cho, Fushimi-ku, Kyoto
(For directions with pictures in Japanese, see

http://ameblo.jp/kendonya/entry-11112319155.html - Japanese)

Hours:

11:00 a.m. to 2:30 p.m., 5:00 p.m. to 8:30 p.m.

Closed:

Wednesdays, and usually one unscheduled day per month

Telephone No.:

Price:

A combination of udon or soba and a mini-rice dish starts at 780 yen
From Fushimi-Inari Station, ride to Chushojima Station and transfer to the Uji Line to Uji Station
Ujigami Shrine

Ujigami Shrine, built so as to face Byodo-in Temple across the Uji River, has a modest exterior, but it is registered as a World Heritage Site as the oldest shrine in Japan still standing.

Address:

59 Uji Yamada, Uji, Kyoto Prefecture

Hours:

9:00 a.m. to 4:30 p.m.

Admission:

Entrance to the temple grounds is free

Telephone No.:
Fukujuen Uji Workshop and Matcha Experience

If you walk a bit farther along the Uji River beyond Ujigami Shrine, you will arrive at the Uji Workshop of Fukujuen, a green tea maker that is famous in Japan. Try your hand at grinding matcha powder yourself using a stone mortar. It is said that in older times, people would grind only the amount they needed to drink to preserve the fresh tea flavor. Following in the spirit of their predecessors, Uji Workshop also grinds matcha green powder to be used for tea right then and there. Enjoy the matcha that you grind yourself along with a tea confection.

Address:

10 Uji Yamada, Uji, Kyoto Prefecture

Hours:

10:00 a.m. to 5:00 p.m.

Closed:

Mondays (Tuesday if Monday is a holiday)

Telephone No.:

Admission:

1,296 yen per person (including ingredients and tea confection; reservations required)

URL:

http://www.ujikoubou.com/ - Japanese
Shopping on the front approach to Byodo-in Temple

Spanning from Byodo-in Temple to Uji Bridge, the historical front approach to the temple has a long line of Uji tea shops doing business since the Muromachi Period (500 years or more) and offering specialty Uji products including premium tea that fills the air. Take a rest here.
Appreciation of the Uji Bridge Scenery

The rapid flow of the Uji River, the green beauty of the mountains and the cinnabar red of Asagiri Bridge take you back more than a thousand years to the days of the Heian Period when the grand culture of the nobles flourished. Before moving to the next spot on the day's sightseeing, take a last look at the beauty of Uji Bridge, allowing the scenery to be etched into your mind.
From Uji Station, ride to Obaku Station. It is a five-minute walk.
Manpuku-ji Temple and Zen practice

Including the building itself and the Buddhist statues, Manpuku-ji Temple was created completely in Chinese style by Zen master Yinyuan Longqi (known in Japanese as Ingen Ryuki) of the Rinzai sect, invited to Japan from Ming China. Hotei, said to be an incarnation of Maitreya (known in Japan as Miroku Bosatsu) is worshipped at the front of Tenno-den Hall as a god of good fortune and matchmaking because his appearance of health and prosperity makes it seem that he laughs away all the dissatisfaction and discontent. Hotei is always depicted carrying a bag of treasures, and is therefore said to bring happiness wherever he goes. Manpuku-ji Temple is also one of the few temples where fucha ryori, a Chinese vegetarian style of cooking developed by the monks of the Obaku sect, can be eaten.
Zen, or zazen as it is usually known in Japan, involves the basic practice of unifying the spirit while sitting with a straight posture. Manpuku-ji Temple is the head temple of the Obaku sect of Buddhism, and visitors can participate in Zen practice. Participants attend an explanation in the lecture hall, after which a practice of 20 to 30 minutes is held. The temple provides accommodations for those who cannot cross their legs or otherwise have trouble sitting in the Zen position.

Address:

34 Gokasho Sanbanwari, Uji, Kyoto Prefecture

Hours:

9:00 a.m. to 5:00 p.m.
time for Zen practice: 60 minutes (reservations required)

Admission:

Adults: 500 yen,
elementary/junior high school students: 300 yen,
Zen practice: 1,000 yen per person

Telephone No.:

URL:

http://www.obakusan.or.jp/ - Japanese
From Obaku Station, ride to Chushojima Station and change to the Keihan Main Line to Gion-Shijo Station.
Shopping and strolling down Gion Hanami Lane at Yasaka Shrine

The towering cinnabar-red gate at the end of Shijo-dori Street (the busiest street in Kyoto) is the entrance to Yasaka Shrine. Along the approach to the temple is where the famous hanamachi (geisha district) known as Gion arose. On the east side of the shrine's grounds is Utsukushi Gozen Shrine, dedicated to a god of financial success, talent and beauty. The geisha and maiko (apprentice geisha) of Gion often come here.
After Yasaka Shrine, visit Gion's Hanami Lane. The teahouses and restaurants built in the machiya townhouse style line both sides of the flagstone road, giving a unique atmosphere found only in Gion. At certain times of the day, geisha and maiko can be seen heading to their engagements.
A secret to the beauty of Kyoto's women lies in the knowledge of beauty that only Kyoto has. Once you come to Kyoto, you cannot return home without buying some of the cosmetics developed here for beauty. And if you have time, stop by Yojiya, a traditional store that carries abura-tori-gami, paper used to absorb oil from the skin, a standard gift from Kyoto.

Yojiya – Gion branch

Address:

Northeast corner of Hanami Koji and Gion Shijo, Higashiyama-ku, Kyoto

Hours:

10:00 a.m. to 8:00 p.m.

Closed:

Pack of abura-tori-gami: 326 yen

Telephone No.:
Stroll in Ponto-cho

From Gion, go west, crossing the Kamo River. When you cross the Shijo Ohashi bridge, you have arrived in Ponto-cho. Running along the west bank of the Kamo River between Sanjo and Shijo, Ponto-cho is a hanamachi (geisha district) as old as Gion, though new shops have been springing up lately to cater to casual visitors seeking a light meal. In summertime, restaurants on the river set up their kawayuka, decks that hang out over the river on which customers can sit to enjoy the flow of the water and the cooling breeze with their meal.
To return to Kyoto Station, take Keihan Electric Railway from Sanjo Station to Shichijo Station. It is a 15-minute walk. Alternatively, ride from Sanjo Station to Tofukuji Station and transfer to JR to Kyoto Station.
To enjoy this itinerary at a discounted rate,
use the Keihan Special Sightseeing Pass!
Validity:
Good for one day of unlimited rides in the Kyoto area on Keihan Electric Railway – between Iwashimizu-hachimangu and Demachiyanagi Stations, Chushojima and Uji Stations, and Cable-hachimangu-guchi Station and the Iwashimizu-hachimangu-sando-cable Line.
Price:
KYOTO-OSAKA SIGHTSEEING PASS 1day Adults: 800 yen
KYOTO-OSAKA SIGHTSEEING PASS 2day Adults: 1,200 yen
KYOTO SIGHTSEEING PASS 1day Adults: 600 yen
Purchase location:
This specially discounted pass is not available at stations. It is available only with hotel accommodation packages at Keihan Group hotels in the Kyoto area.
Area Map