The Best of Kyoto in a Day
See two of Kyoto's great temples, the Temple of the Golden Pavilion (Kinkaku-ji) and Kiyomizu-dera Temple, and enjoy Japan's food culture in Nishiki Market and Gion. This is an excellent way to experience Kyoto, particularly for first-time visitors.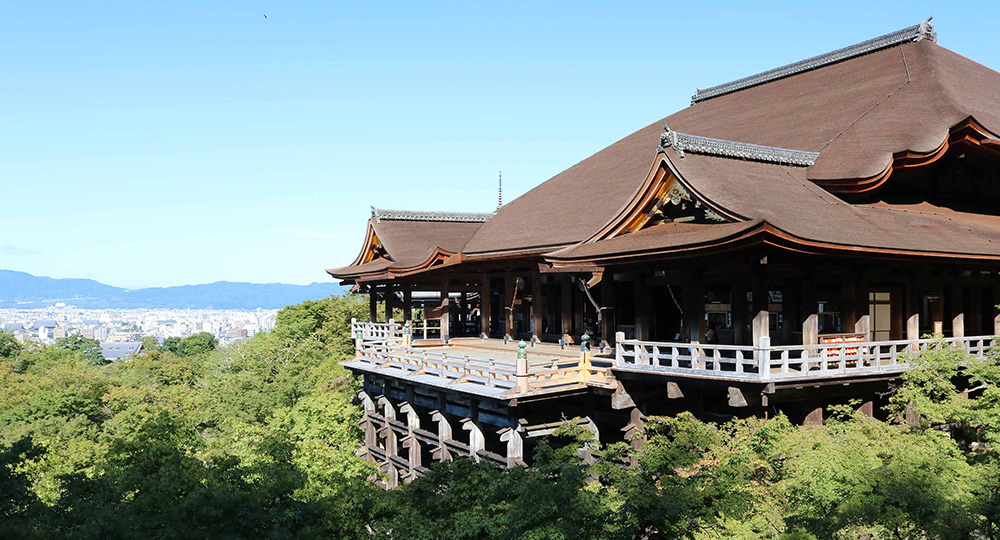 Travel Schedule
Kyoto Tower

Kyoto Tower is a symbol of Kyoto, rising high across the street from Kyoto Station. The tallest structure in Kyoto, the tower gives a beautiful view of the entire town in all directions. Before beginning your day of sightseeing, go to the top to get a rough grasp of Kyoto's geography. Guests at Kyoto Tower Hotel, Kyoto Dai-ni Tower Hotel and Kyoto Tower Hotel Annex receive complimentary tickets for the observation deck.

Address:

721-1 Higashishiokoji-cho, Karasuma-dori Shichijo-sagaru, Shimogyo-ku, Kyoto (Next to JR Kyoto Station)

Hours:

9:00 a.m. to 9:00 p.m.
Admission ends 20 minutes before closing time.

Admission:

Adults: 800 yen
High school students: 650 yen
Elementary and middle school students: 550 yen
Infants (6 years old or older): 150 yen

Telephone No.:
From Kyoto Station take Kyoto city bus 101/205 to the Kinkaku-ji-michi bus stop.
Kinkaku-ji, the Temple of the Golden Pavilion

Kinkaku-ji is the most famous among the many sightseeing areas in Kyoto. Built as a retreat for the third Ashikaga shogun of the Muromachi period, Yoshimitsu Ashikaga, as an expression of the Buddhist Pure Land (paradise) on this world, Kinkaku-ji was converted to a temple in 1397. The gold leaf covering the three-story reliquary hall (the main building) reflects with beauty on the still expanse of the surface of Kyoko-chi (Mirror Pond). The outside surface of this hall is beautifully covered in 20 tons of gold ingots, 200,000 pieces of gold leaf and 1.5 tons of lacquer. As an added bonus, your admission ticket serves as a charm to bring good luck and protect your home. The fortunes at Kinkaku-ji are also available in Chinese and Korean, a feature rarely found anywhere else.

Address:

1 Kinkaku-ji-cho, Kita-ku, Kyoto

Hours:

9:00 a.m. to 5:00 p.m.

Admission:

Adults: 400 yen,
Elementary and junior high school students: 300 yen

Telephone No.:
From Kinkaku-ji-michi Street, take Kyoto city bus 59 to the Ryoan-ji-mae or Omuro Ninnaji bus stop. Transfer to Keifuku Electric Railroad to Arashiyama Station.
Arashiyama, Togetsu-kyo Bridge, Nonomiya Shrine, Bamboo Grove Path

Located on the western outskirts of Kyoto City and originally where Heian nobles built their retreats, Arashiyama is one of the foremost sightseeing areas in Kyoto. Its symbol is Togetsu-kyo Bridge, a long wooden bridge spanning the Katsura River, which runs through the center of Arashiyama. Take a photo with the bridge as a backdrop to remember your trip, and begin your stroll through Arashiyama.
After about 10 minutes of walking, you will come to Nonomiya Shrine, which appears in The Tale of Genji, Japan's oldest novel, surrounded by the Sagano Bamboo Grove. Even in the middle of the day, the thick growth of bamboo blocks the sunlight, creating a mystical twilight atmosphere.
Renting a rickshaw is recommended as a way to enjoy sightseeing in the Arashiyama area. The rickshaw workers also serve as guides to the area, making for a memorable trip.
From Arashiyama take Kyoto city bus 11 to the Shijo Kawaramachi bus stop.
OR

Take Keifuku Electric Railroad form Arashiyama Station, transferring at Shijo Omiya Station to Hankyu Railway (called Omiya Station). Get off at Kawaramachi Station. It is a three-minute walk from the station.
Stroll at Nishiki Market

Called "Kyoto's kitchen," Nishiki Market is a bustling area in the Shijo area of Kyoto, crammed with shops on both sides of the narrow street selling meats, vegetables and other fresh foods, along with a wide range of other daily necessities. The market is filled with energy all day long. Nishiki Market is frequented by professional chefs and locals in addition to the large number of tourists. With all the goods unique to Kyoto—traditional "Kyoto vegetables," pickled vegetables, dried foods, confections and cooking implements—you may find it hard to pull yourself away.

Address:

Nishiki Koji-dori Tera-machi Nishi-iru or Nishiki Koji-dori Takakura Higashi-iru, Nakagyo-ku, Kyoto

Hours:

10:00 a.m. to 5:00 p.m. (individual shop hours may vary)

Telephone No.:

+81-(0)75-211-3882 (Kyoto Nishiki Market Promotion Association)

URL:

http://www.kyoto-nishiki.or.jp/- Japanese
Lunch at Nishiki Market

Enjoy a lunch made from fresh ingredients from one of Nishiki Market's many small shops.
From Shijo Takakura take Kyoto city bus 207 to the Kiyomizu-michi bus stop.
Kiyomizu-dera Temple

Nearly everyone who visits Kyoto goes to Kiyomizu-dera Temple at least once. Located on a cliff, the temple was constructed without using a single nail. The veranda outside the main hall provides a wonderful view of Kyoto. In Japan, the expression "jump off the stage (veranda) of Kiyomizu" is equivalent to the English "take the plunge," applied to doing something with absolute resolve. The practice of leaping off this veranda (to survive meant the leaper's wish would be granted) was actually so common in the past that the government took the step of issuing a prohibition against the practice in the nineteenth century. On the grounds is a shrine to the tutelary deity of the area, known for marriage-making. Also, a pair of "love fortune-telling stones" found there are said to grant wishes if supplicants can make it from one stone to the other with their eyes closed.

Address:

1-294 Kiyomizu, Higashiyama-ku, Kyoto, Kyoto Prefecture

Hours:

The opening and closing times for Kiyomizu-dera Temple vary throughout the year. When there are special openings at night, the gates close for a short time and open again.
See here for more details:
www.kiyomizudera.or.jp/en/location/#OpenHours

Admission:

High school students and older: 400 yen
Junior high school students and younger: 200 yen

Telephone No.:
3 minutes on foot
Strolling along Ninen-Zaka and Sannen-Zaka, a rest at Inoda Coffee

The areas near Kiyomizu-dera Temple known as Ninen-zaka and Sannen-zaka are together designated as an Important Preservation District for Groups of Traditional Buildings. The old buildings and street paved with flagstones make for an excellent stroll to enjoy the atmosphere of the old capital. With souvenir shops and restaurants along the way, Ninen-zaka and Sannen-zaka are always filled with many tourists. Facing Sannen-zaka, Seiryu-en Garden has a variety of shops, including Kyoto brand gift shops, restaurants, Japanese novelties and more bordering a traditional Japanese garden. The architectural styles represented in the buildings include the Kyoto machiya and gassho styles.

Inoda Coffee provides a pleasant stop where you can enjoy a drink in the classic rosewood-toned interior while gazing out on the Japanese garden. We recommend trying their Arabia no Shinju (Arabian Pearl), a specially blended coffee. One unique feature of Inoda's coffee is that they put the milk and sugar in for you, a practice they have followed since they first opened. This superb fusion of Japanese and Western cultures makes a space that is excellent for spending some special time.

Address:

3-334 Kiyomizu, Higashiyama-ku, Kyoto

Hours:

9:00 a.m. to 5:00 p.m.

Telephone No.:
From Kiyomizu-michi Street take Kyoto city bus 100/202/206/207 to the Gion bus stop.
Stroll in Gion

The towering cinnabar-red gate at the end of Shijo-dori Street (the busiest street in Kyoto) is the entrance to Yasaka Shrine. Along the approach to the temple is where the famous hanamachi (geisha district), Gion, arose. On the east side of the shrine's grounds is Utsukushi Gozen Shrine, dedicated to a god of financial success, talent and beauty. The geisha and maiko (apprentice geisha) of Gion often come here. The Gion area is filled with teahouses and restaurants built in the machiya style. At certain times of the day, geisha and maiko can be seen heading to their engagements. The unique atmosphere of Gion is particularly strong along Hanami-koji Street and the Shirakawa River.

Address:

Gion, Higashiyama-ku, Kyoto
Dinner at Ishibe Koji Mamecha

A Japanese-style restaurant with the atmosphere of old Kyoto, located to the east of Yasaka Shrine on Ishibe Koji. It provides excellent cuisine with a modern Japanese interior at prices more reasonable than the upscale restaurants in the area.

Address:

South of the Yasaka Shrine South Tower Gate on

Hours:

5:00 p.m. to 11:00 p.m. (subject to change according to season)

Telephone No.:

URL:
Area Map