Kyoto Tower is a landmark tourism spot located next to JR Kyoto Station. From the observatory 100 meters in the air, look out over Kyoto with a 360-degree bird's-eye view. In addition to the observation deck, the Kyoto Tower Building has a hotel, a public bath, and Kyoto Tower SANDO, a commercial complex where you can dine, shop and enjoy cultural experiences. You'll find that Kyoto Tower is itself a great attraction for all kinds of fun activities. Kyoto Tower also serves as a convenient starting place for exploring Kyoto. In addition to being next to a JR station, it is also close to a Kyoto Municipal Subway station and the loading area of scheduled tour buses. When planning a trip to Kyoto to see the sights, consider making Kyoto Tower your first stop.
Kyoto Tower SANDO Guide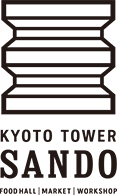 Kyoto Tower SANDO is a commercial facility occupying the B1 level and the 1st and 2nd floors of Kyoto Tower. Each floor is built around a different theme, from the fine dining on the B1 level, to the Kyoto souvenir market on the 1st floor and workshops for taking part in Kyoto-style cultural activities on the 2nd. Located next to JR Kyoto Station, Kyoto Tower SANDO is a convenient place with a variety of things to do.
Accepted at Kyoto Tower SANDO:
B1 level: Fine dining

On the B1 level, you will find 19 Kyoto restaurants of great fame and popularity. Among the options are a steakhouse serving mature beef and a Chinese restaurant that is a favorite among Kyotoites. The format is open seating, so you can buy dishes from a variety of restaurants and enjoy them at one spot. For adult beverages, you will find local Kyoto sakes with histories of 300 years and more, locally made wines and crafted beers, as well as the first gin to be created in Japan. There is even an artistic cocktail creation incorporating katsuo (bonito) broth. Open from 11:00 to 23:00, the B1 level is the perfect way to enjoy the evening in Kyoto.
1st floor: Shopping

On the 1st floor, you can buy all sorts of things from Kyoto stores, including sweets, tsukemono (pickles), zakka (sundry daily goods) and cosmetics. Also look for the popular merchandise available only at Kyoto Tower SANDO. Finding wagashi (Japanese confections) and other products that are made individually by hand in a different tradition from other shops yet maintaining that deep sense of culture is one of the real delights of being in Kyoto.
2nd floor: Workshops

Here on the 2nd floor, you can partake in Japanese cultural activities that are unique to Kyoto. Learn how to make otabe, an uncooked classic Kyoto confection, from a master Kyoto artisan or the secrets of creating wagashi (Japanese confections). Or try your hand at Kiyomizu-yaki pottery, a famed Kyoto tradition, or drawing pictures on folding fans or glass vessels. These workshops allow you to experience Japanese culture first-hand. Particularly those with children will enjoy a family experience learning how to prepare matcha parfaits, Kyoto vegetables and other food items, or practicing the art of nigiri sushi and then eating your creations.
The surrounding area
The sightseeing bus loading area

In front of Kyoto Tower is a boarding area for Kyoto sightseeing buses. These buses make it easy to see the most prominent sights in Kyoto and are highly recommended, especially for those visiting for the first time. In addition to all-day sightseeing itineraries, there are various other trips available, such as an evening itinerary to see a maiko show and an itinerary that combines train and local buses to see noteworthy locations in Kyoto that are not very accessible. Headsets providing guidance in multiple languages are available for some itineraries.

For details click here >>

Using public transportation

Buses that stop right in front of Kyoto Tower travel the city, and the Kyoto Municipal Subway Karasuma Line has its Kyoto Station nearby, making Kyoto Tower a great base for your Kyoto adventures. One convenient way to use Keihan Electric Railway is to take a 2-minute ride from JR Kyoto Station to JR Tofukuji Station and then transfer.
Address and Map
721-1 Karasuma-dori Shichijo Sagaru Higashi-Shiokoji-cho, Shimogyo-ku, Kyoto, Kyoto Prefecture
600-8216