Get more out of these towns of water and history
Uji / Fushimi / Iwashimizu Hachimangu
Uji area
1

Byodoin Temple

The temple was established by Fujiwara-no-Yorimichi in 1052. It is registered as a World Cultural Heritage Site and houses many National Treasures. The highlight is the Houou-do (Phoenix Hall) depicted on the 10-yen coin. Admire the seated image of the Amida created by the sculptor Jocho, and the reflection of the stunning main hall in the Ajiike Pond.

Open:

Garden 8:30-17:30 (Last entry at 17:15);
Byodoin Museum Hoshokan 9:00-17:00 (Last entry at 16:45);
Inside Phoenix Hall 9:30-16:10 (Reception opens at 9:00. Viewings every 20 minutes)

Entry:

¥600; ages 13-18 ¥400; ages 6-12 ¥300 *An additional ¥300 to enter the Phoenix Hall.

Address:

116 Uji Renge, Uji City, Kyoto Prefecture

Phone:

0774-21-2861

Getting there:

10 min. walk south of Uji Sta.

URL:

2

Chazuna, a historical park for the tea and town of Uji

A park and multipurpose facility right by Uji Station. The park, created along the banks of the Uji River, is verdant and open. In addition to tea fields, it has a museum, restaurants, and more. Beyond the history and culture of Uji, visitors can rediscover the appeal of Uji tea. You can even try your hand at grinding your own matcha tea, brewing it, and drinking it, as well as other Uji tea experiences.

Open:

9:00-17:00 (Museum closes at 16:30)

Museum entry:

¥600 (¥300 for under-16s)

Address:

203-1 Todo-Maruyama, Uji City, Kyoto Prefecture

Phone:

0774-24-2700

Getting there:

Just to the northwest of Uji Sta.

URL:

3

Ujikami-jinja Shrine

The Main Hall was constructed in the latter half of the Heian period (794-1185), making it the oldest extant shrine architecture in Japan. The Worship Hall was built in the early Kamakura period (1185-1333). Both halls are National Treasures, and also registered as World Cultural Heritage sites. Kasuga-jinja Shrine, built on the grounds during the Kamakura period, is also an Important Cultural Property. The Kiriharasui in the grounds is the only remaining spring of the Seven Famed Waters of Uji, and is used in the purification basin.

Open:

9:00-16:30

Address:

59 Uji Yamada, Uji City, Kyoto Prefecture

Phone:

0774-21-4634

Getting there:

10 min. walk southeast of Uji Sta.
Gallery
Byodoin Temple (Byodoin Museum Hoshokan) ...

1

A hands-on museum where visitors can see a National Treasure bell, phoenixes, Buddhist figures on clouds, and more close up

Byodoin Temple ...

1

Wooden sculptures of Buddhist saints on clouds (National Treasures)

Chazuna ...

2

In the two hands-on rooms, you can compare the aromas and tastes of tea, create seasonal items, or any of around twenty experiences that change daily (Reservations required)

Chazuna ...

2

2F observation terrace to feel the breezes. The beautiful scenery of the Uji River and the tea fields in the park spreads out before you

Chazuna ...

2

A museum where you can learn about what makes this tea and town special. Visit this first to get even more out of your visit to Uji
Fushimi area
Gallery
Fushimi Townscape

Housed in a renovated sake brewery built in 1909. An area to enjoy the quaint scenery of Fushimi, the town of sake breweries

Gekkeikan Okura Sake Museum ...

1

Displays tools and other items actually used in sake brewing

Gekkeikan Okura Sake Museum ...

1

Once a day on weekdays (from around 13:30) there are demonstrations of wrapping straw around sake barrels

Gekkeikan Okura Sake Museum ...

1

The Sakamizu spring near the exhibit hall exit is still used to brew Gekkeikan sake

Kizakura Kappa Country ...

2

It sells sake, sake vessels, and Kizakura goods in the shop

Jukkokubune ...

3

Experience an Edo-period boat trip!

Fushimi-Inari Taisha Shrine ...

4

This is the head shrine of all the 30,000 or so Inari shrines in Japan. The fox statues on either side of the tall gate hold a jewel and a key in their mouths
Iwashimizu Hachimangu area
1

Iwashimizu Hachimangu Shrine

Iwashimizu Hachimangu Shrine was split off from Usa Jingu, the head of all Hachiman shrines, in the early Heian period (794-1185). The main hall's Hachiman-zukuri parallel architectural style and the shrine's historical value won it National Treasure designation. Known to ward off evil, Iwashimizu attracts crowds year round.

Open:

6:00-18:00 *Varies by season

Address:

30 Yawata Takabo, Yawata City, Kyoto Prefecture

Phone:

075-981-3001

Getting there:

From Iwashimizu-hachimangu Sta., transfer to Iwashimizu-hachimangu-sando-cable; 5 min. walk south of Cable-hachimangu-sanjo Sta.
Gallery
Iwashimizu Hachimangu Shrine ...

1

Where the eaves of the Main Hall's bark-shingle roof meet is where you will find the Golden Gutter, donated by Oda Nobunaga

The cute "Dove Fortunes" ...

1

The cute "Dove Fortunes" are popular: ¥500 each
Map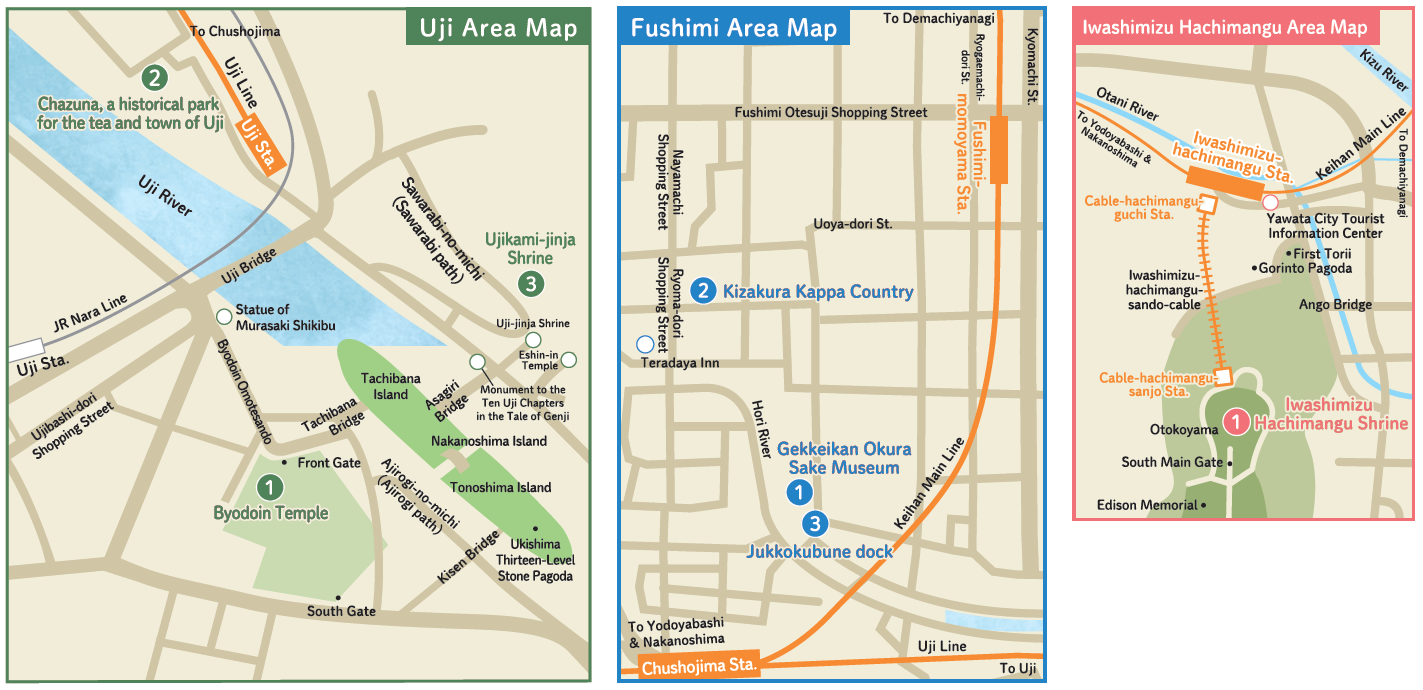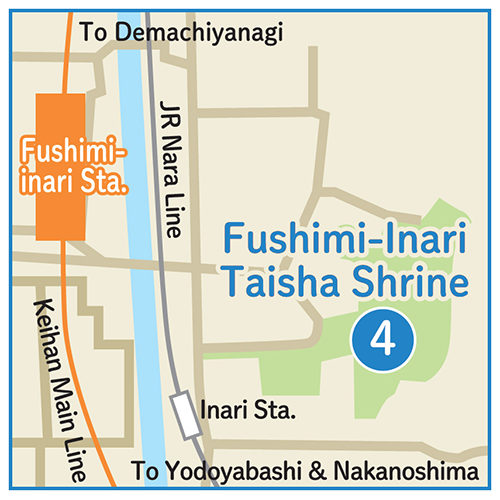 The information listed here is current as of April 1, 2023