If Kansai is your destination for travel in Japan, have you thought about making a stop in Shiga Prefecture? While Kyoto, Osaka, Nara and Kobe are the main places of focus for sightseeing in Kansai, Shiga has a lot to offer, too . Here we introduce some itineraries for seeing some of the best sights in Shiga. Blessed with a natural environment, including Lake Biwa—Japan's largest lake—Otsu is the prefectural capital of Shiga Prefecture and the home to many shrines and temples with a long history. Jump on Keihan Electric Railway's Otsu Line with its trains wrapped in fun advertising and experience a tour to the Kosei area, a little off the beaten path. And remember to get a Koto Koto Otsu One-Day Pass for convenient travel and lots of great deals!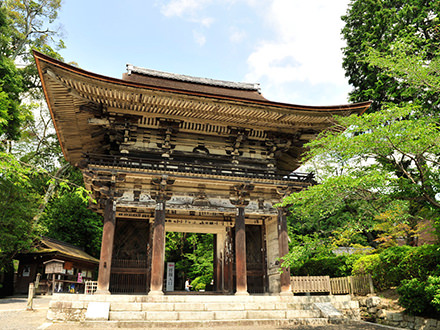 Travel Schedule
So where is Shiga Prefecture and how do you get there?
Although Shiga is not well known outside of Japan, its prefectural capital Otsu is located just to the east of Kyoto, and while geographically further than Arashiyama, which is located in the city of Kyoto, Otsu is often regarded as easier to reach from downtown Kyoto. To get to Shiga from Kyoto Station, take the Kosei or Biwako Line and transfer to the Keihan Otsu Line at Yamashina Station. Alternatively, take the Keihan Main Line or the Tozai subway line to Sanjo Keihan Station and transfer to the Otsu Line.
9:00 Depart from Kyoto Station - travel toward Yasu Station on the JR Biwako Line. An additional fare of 190 yen required as this is outside of the Koto Koto Otsu One-Day Pass range
9:05 Arrive at Yamashina Station; exit the ticket gate and transfer to Keihan Electric Railway
9:10 Depart from Yamashina Station on the Keihan Electric Otsu Line to Biwako-hamaotsu Sation
9:24 Arrive at Biwako-hamaotsu station
9:25 Depart from Biwako-hamaotsu station on the Keihan Electric Ishiyama Sakamoto Line toward Sakamoto-hieizanguchi station
9:27 Arrive at Miidera Station
Alternatively
8:55 Sanjo Station – three minutes on foot
9:01 Depart from Sanjo Keihan Station on the Tozai subway line toward Biwako-hamaotsu station
The Kyoto subway is outside the scope of the Koto Koto Otsu One-Day Pass, and so a 260-yen subway ticket must be purchased at Sanjo Keihan Station. At Misasagi Station, the subway line ends, turning into the Keihan Keishin Line. No transfer is required. After presenting your subway ticket when exiting at Miidera Station, purchase a Koto Koto Otsu One-Day Pass from a station employee.
9:24 Arrive at Biwako-hamaotsu station
9:25 Depart from Biwako-hamaotsu station on the Ishiyama Sakamoto Line toward Sakamoto-hieizanguchi station
9:27 Arrive at Miidera Station
Mii-dera Temple

The head temple of the Tendaijimon sect of Buddhism, Mii-dera houses more than a hundred National Treasures and Important Cultural Properties of Japan. Formally known as Onjo-ji Temple, the temple derives its name "Mii-dera" (Temple of Three Wells) from its spring said to have been used in the ritual bathing of Emperors Tenji and Temmu and Empress Jito when they were newborns. The character for "three," however, was originally written with the character for "imperial," so the name is more properly rendered "Temple of the Imperial Well." The mystical spring ("well") continues to gush to this day from Akaiya, a building on the west side of the Golden Hall. Known for its beautiful timbre, the evening bell at Mii-dera is considered one of the three great temple bells of Japan, and the painting "The Evening Bell at Mii" is one of the Eight Views of Omi (Omi being an older word for Shiga). More recently, the bell was selected as one of the "100 Sounds to Preserve in Japan." Located on a high platform, Kannon Hall provides an excellent view of the Otsu cityscape and beautiful Lake Biwa.

Address:

246 Onjoji-cho, Otsu, Shiga Prefecture

Hours:

8:00 a.m. to 5:00 p.m.

Admission:

Adults: 600 yen,
Junior high and high school students: 300 yen,
Elementary school students: 200 yen

Telephone No.:

Benefit:

Benefits of the Koto Koto Otsu One-Day Pass: Discounted entry – Adults: 550 yen

After descending from Kannon Hall, follow the Lake Biwa Canal back to the station. An innovative work of civil engineering in the Meiji Period, this canal was constructed over a period of four years and eight months starting in 1885 for multiple purposes, including a navigable connection between Otsu and Kyoto, the production of hydroelectricity, and a supply of drinking water. More recently, rows of cherry blossom trees have been planted along each bank from the sluice gate near the Port of Otsu to beneath Kannon Hall. Illuminated on spring nights, it is a popular place to enjoy yo-zakura, or evening cherry blossoms.
10:36 Depart from Miidera Station
10:54 Arrive at Karahashimae Station
Seta Karahashi Bridge

Walking about 100 meters to the east from Karahashimae Station, you will come to Seta Karahashi Bridge, considered one of the three great bridges of Japan and featured in the painting "Evening Glow In Seta," one of the Eight Views of Omi. Although it is not clear when the bridge was first completed, it is very old, making an appearance in "Nihon Shoki," a chronicle completed in 720. It has long been said that whoever controls Karahashi controls Japan, indicating strategic importance of the bridge for transportation and military affairs, and for holding power in Kyoto. The bridge is also the setting of many literary works and historical events. Rebuilt in 1979, the current bridge was constructed with reinforced concrete in place of the traditional wood structure. To restore the traditional cream color in line with the older structure, the bridge was repainted in 2012 with a paint having a brown tone. Decorated with the ornamental railing knobs from the old bridge, the new structure retains the earlier appearance with its deep, ancient feel.

Address:

Karahashi-cho, Seta, Otsu, Shiga Prefecture

Hours:

Anytime

Telephone No.:

+81-(0)77-534-0706 (Otsu City Tourist Information Office at Ishiyama Station)
11:24 Depart from Karahashimae Station
11:26 Arrive at Ishiyamadera Station
Ishiyama-dera Temple

A sacred place for Kannon (Guanyin or the Goddess of Mercy) since the Nara Period (710 to 794), Ishiyama-dera Temple attained a high status with connections to the imperial court and nobility in the Heian Period (794 to 1185) when religious belief in Kannon flourished, and many of the common people also came to revere her. Inside the spacious grounds stand large rock formations made of wollastonite that are the temple's namesake (Ishiyama means rock mountain). It is said that when Murasaki Shikibu was gazing at the full moon from one of the windows in the main hall, she was inspired with the vision that led her to write "The Tale of the Genji," and that room was subsequently named the Genji no Ma (Genji Room). Tsukimitei (Moon Viewing Pavilion), a building constructed on a high platform overlooking the clear waters of the Seta-gawa River, is symbolic of "The Autumn Moon at Ishiyama," one of the Eight Views of Omi, and is known as an excellent place for moon viewing. Next to Tsukimitei is a Basho hut, where the haiku master Matsuo Basho wrote many haikus during his stays. The temple is also known also as Hanano-tera (Flower Temple), and its grounds are filled with ume, cherry blossoms trees, rhododendrons and deciduous trees, providing beautiful scenery of floral beauty throughout the year.

Address:

1-1-1 Ishiyama-dera, Otsu, Shiga Prefecture

Hours:

8:00 a.m. to 4:30 p.m.
Last admission at 4:00 p.m.

Cost:

Adults: 600 yen
Elementary school students: 250 yen

Telephone No.:

URL:

http://www.ishiyamadera.or.jp/ - Japanese

Benefit:

Benefits of the Koto Koto Otsu One-Day Pass: Discounted entry – Adults: 500 yen,
Junior high and high school students: 350 yen,
Elementary school students: 200 yen
Lunch at Shijimi Chaya – Koshu

Located right next to San-mon Gate of Ishiyama-dera Temple, Shijimi Chaya – Koshu is a restaurant specializing in local cuisine. Using locally harvested shijimi (basket clams), a specialty of Lake Biwa, this restaurant invented a dish called shijimi meshi in 1963 made from rice and basket clams. After the order is placed for shijimi meshi, a tray is brought out for each person. In a small cooking pot is locally produced Goshu (Shiga) rice and basket claims, accompanied by five local dishes that may include the likes of Omi (Shiga) beef simmered with red Eigen-ji Temple konjac, and choji fu (a wheat gluten food) in a miso cucumber salad. Make a reservation before visiting Ishiyama-dera Temple to be greeted with piping hot food when you arrive. Inside, products that are displayed for sale include lake/river fish simmered in soy, assorted Japanese accessories, Otsu pictures and Shigaraki/Ishiyama pottery.

Address:

3-2-37 Ishiyama-dera, Otsu, Shiga Prefecture (After exiting San-mon Gate at Ishiyama-dera Temple, follow the souvenir shops. The restaurant is on the right side with a logo of a large rice cooking pot.)

Hours:

10:00 a.m. to 5:00 p.m. (L.O. 4:30 p.m.)

Telephone No.:

URL:

http://www.e510.jp/koshu/ - Japanese
13:05 Depart from Ishiyamadera Station
13:39 Arrive at Sakamoto-hieizanguchi station
Stroll around Sakamoto

Sakamoto flourished as the temple town outside the gate of Enryaku-ji Temple on Mount Hiei, and some 50 monks' residences are located here. Such monks' residents, known as satobo, were traditionally given to older monks who had completed their practice at Enryaku-ji Temple. Notable gardens include superbly designed shakkei gardens where large features in the distance are "borrowed" as a part of the landscape, and arrangements of azaleas, deciduous trees and mosses placed to create beautiful color combinations. Sakamoto is where the Anoshu arose, a group of stonemasons who built castle walls and other works. The stonework around the monks' residences are steadfast works skillfully built from natural rock and giving a relaxed atmosphere in harmony with the white walls. The entirety of Sakamoto has been selected as a Group of Traditional Buildings, a category for natural preservation.

Benefits of the Koto Koto Otsu One-Day Pass at Sakamoto:
1. Shiga-in Monseki ruins:
Discounted entry — Adults:400 yen, Elementary, Junior high and high school students: 250 yen
2. Kyu Chikurin-in Temple:
Discounted entry — Adults: 250 yen, Elementary school students:120 yen
Hiyoshi Taisha Shrine

Hiyoshi Taisha is the main shrine for more than 3,800 Hiyoshi, Hie and Sanno Jinja Shrines spread throughout Japan. The Hiyoshi Taisha shrine grounds include many shrines that boast spectacular architectural beauty in a forest through which the Omiya-gawa River runs on its way down the mountain. Autumn is particularly beautiful when the trees change color and are reflected in the magnificent shrine buildings. The West and East Halls of Worship are notable structures in the Hiyoshi-zukuri architectural style and are designated as National Treasures. There are also many Important Cultural Treasures of Japan, such as the Hiyoshi Sankyo Bridge which is the oldest stone bridge in Japan and is said to have been built with donations from Toyotomi Hideyoshi, cinnabar-colored Nishi Hongu Romon Gate with monkey engravings, and the Sanno Torii which has a specially designed section on top representing the character for "san" as a symbol for Sanno Shintoism. The Hiyoshi Taisha Sanno Festival held from April 12 to 15 each year to pray for world peace and bountiful harvests has a history of more than 1,200 years.

Address:

5-1-1 Sakamoto, Otsu, Shiga Prefecture

Hours:

9:00 a.m. to 4:30 p.m.

Cost:

Adults: 300 yen, children: 150 yen

Telephone No.:

URL:

http://hiyoshitaisha.jp - Japanese

Benefit:

Benefits of the Koto Koto Otsu One-Day Pass: Discounted entry — Adults: 270 yen
14:54 Depart by bus from Hiyoshi Taisha-mae bus stop (An additional fare of 180 yen is required as this is outside of the Koto Koto Otsu One-Day Pass range)
15:00 Arrive at Saikyo-ji bus stop
Saikyo-ji Temple

Saikyo-ji Temple is the head temple for the Tendai Shinsei sect of Buddhism with more than 450 branch temples throughout Japan. A quiet, elegant air floats through the temple grounds, and the sounds of chanting and the temple bell resound, creating a unique atmosphere. The main hall with its stately presence, the guest hall with the structural remains of Fushimi Castle, and the sliding door paintings of people, objects, flowers and birds in the Kano school style are among the many wonderful things to see. The garden to the west of the guest hall skillfully incorporates the steep mountain slope behind it, creating a scenery for appreciating the careful pruning used to create both round and sharp lines. The pond in the center of the garden is gourd-shaped, resembling a biwa (Japanese lute), and two stone groupings compose a hillock between the lower part of the mountain slope and the pond. The garden is particularly wonderful with the new growth at the start of summer, when the azaleas bloom, in fall at the height of fall colors and when winter weather creates a snowy scenery.

Address:

5-13-1 Sakamoto, Otsu, Shiga Prefecture

Hours:

9:00 a.m. to 4:30 p.m.

Cost:

Adults: 500 yen

Telephone No.:
15:56 Depart from Saikyo-ji bus stop (An additional fare of 210 yen required as this is outside of the Koto Koto Otsu One-Day Pass range )
16:02 Arrive at Keihan Sakamoto Ekimae bus stop




16:05 Depart from Sakamoto-hieizanguchi station
16:15 Arrive at Omijingumae Station
Omi Jingu Shrine

Omi Jingu enshrines Emperor Tenji, the 38th emperor. It is said that Omi Otsu no Miya, the capital of Japan when located in Otsu, was located near Omi Jingu Shrine. In 667, Emperor Tenji moved the capital from Asuka in Nara to Otsu, where he pursued policies to usher in a new era. Among the achievements of the times were the creation of a clepsydra (water clock), and the development of news reports, an important social foundation. The Clock Museum here exhibits include a variety of Japanese clocks reaching back to ancient times. The clepsydra and sundial on the temple grounds were installed through offerings from the clock/watch industry. The temple buildings are in an architectural style known as Omi-zukuri or Showa-zukuri, in which corridors are incorporated in the buildings (the Main Hall, and the Inner and Outer Haiden) on the hillside, and are designated as Registered Tangible Cultural Properties of Japan as representative examples of Omi Jingu architecture.

Address:

1-1 Jingu-cho, Otsu, Shiga Prefecture

Hours:

6:00 a.m. to 6:00 p.m. (good luck charms: 9:00 a.m. to 4:30 p.m.), Clock Museum: 9:30 a.m. to 4:30 p.m. (closed Monday except for holidays and special occasions)

Cost:

Temple grounds – no charge
Clock Museum – adults: 300 yen, elementary and junior high school students: 150 yen

Telephone No.:

Benefit:

Benefits of the Koto Koto Otsu One-Day Pass: Clock Museum: Adults: 210 yen
Elementary and junior high school students: 100 yen
17:00 Depart from Omijingumae Station
17:07 Arrive at Biwako-hamaotsu station
Shopping at Hamaotsu A-qus and Umi no Eki Hamaotsu

The Port of Otsu has long flourished as a regional center for goods transported over Lake Biwa. Umi no Eki recreates the bustle of the old-time Port of Otsu, a permanent market with specialties produced in the Omi area. Shops at Umi no Eki sell a great number of wonderful Shiga products, from seasonal confections and Omi jizake (locally brewed sake) to Omi beef, well known throughout Japan for its fine flavor. Umi no Eki has many other great selections as well to take home for gifts or to indulge yourself. On the weekends, the farmers market also opens with local specialties for sale. At the nearby restaurants, enjoy excellent cuisine (and dessert!) made with local ingredients.

Address:

Hamaotsu A-qus, Second Floor 2-1 Hama-machi, Otsu, Shiga Prefecture

Hours:

10:00 a.m. to 10:00 p.m. (last orders: food – 9:00 p.m., drinks – 9:30 p.m.)

Telephone No.:

URL:

http://www.umino-eki.jp/- Japanese
17:42 Depart from Biwako-hamaotsu Station
17:48 Arrive at Otani Station
Dinner at Kaneyo at Osakayama

Exiting the station, walk about 50 meters to the right, where you will find Kaneyo at Osakayama, a restaurant with a history of 140 years and celebrated as having the best eel in Japan. The restaurant's specialty is called Kinshidon® , which is Japanese eel, broiled and placed on rice with a dashimaki egg omelet (three eggs) on top. The fragrant eel and dashimaki are an excellent combination with a mellow flavor and is very popular. The main restaurant is an attractive option with tatami room seating that looks out onto an elegant Japanese garden (a service charge applies), and the more relaxed restaurant on the other side of the road with table seating is also an excellent choice. The two are closed on different days (for the most part), so check the website before going.

Address:

23-15 Otani-cho, Otsu, Shiga Prefecture

Hours:

11:00 a.m. to 8:00 p.m.
Calendar:

Telephone No.:

URL:

http://www.kaneyo.in/ - Japanese

Benefit:

Benefits of the Koto Koto Otsu One-Day Pass:
10 percent off your food
Area Map