From Kyoto to Mount Hiei, holy land of Japanese Buddhism,
to Lake Biwa, Japan's greatest lake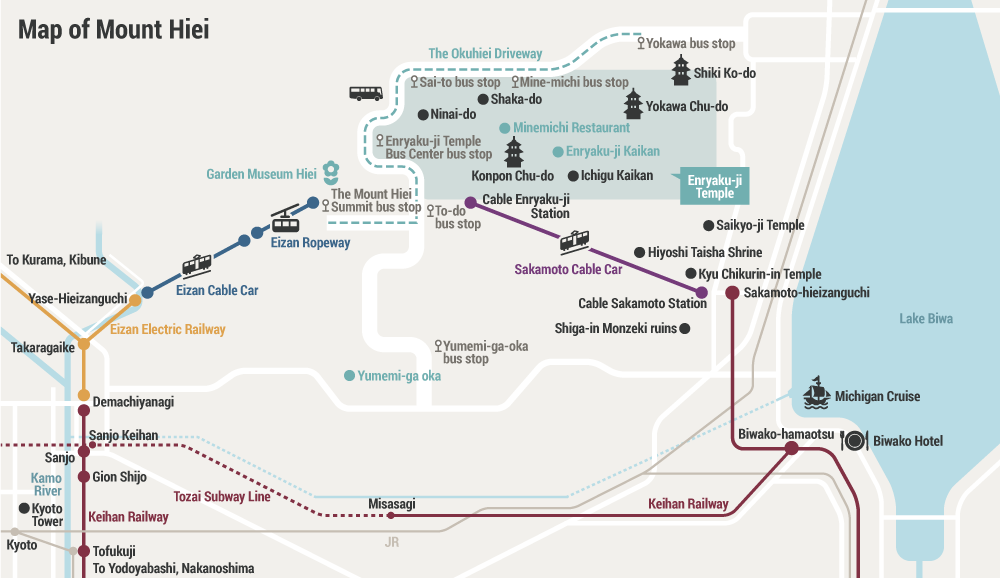 Today, when people in Japan hear the word "mountain," Mount Fuji most often comes to mind, but back in the days when Kyoto was Japan's capital, Mount Hiei was the first thing that came to mind, a special mountain that was the cradle of Japanese Buddhism.
Mount Hiei is a holy land dotted with the structures of Enryaku-ji Temple, a World Heritage Site surrounded by thick cedar groves that is the headquarters of the Tendai sect, and also offers picturesque scenery such as the view of old Kyoto from the border between Kyoto and Shiga Prefectures, and a gorgeous, sweeping view of Lake Biwa, Japan's largest lake. We would like to suggest a sightseeing itinerary centered on Mount Hiei, starting in Kyoto and ending in Shiga.
Please note that the times indicated below are for weekday schedules from the end of March until the start of December. Schedules are subject to change on weekends and holidays due to the increases in the number of travelers. Some routes may run less often or not at all in winter. For details, refer to the time schedules for the individual routes.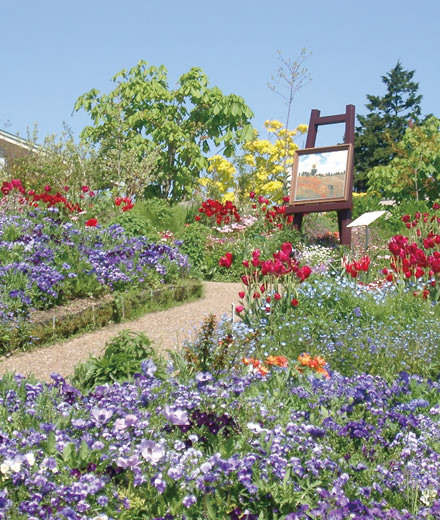 Travel Schedule
Eizan Electric Railway, Eizan Cable and Eizan Ropeway

Ride all the way to the top of Mount Hiei on the Eizan Electric Railway, Eizan Cable and Eizan Ropeway.
Connecting with Demachiyanagi Station, the terminal station of Keihan Electric Railway, Eizan Electric Railway is a sightseeing line dotted with locations known for their harmonious balance of nature and the old capital such as Ohara, Kurama and Kibune. After departing for Mount Hiei from Demachiyanagi Station, the train arrives at Yase-Hieizanguchi Station in about 15 minutes. The Yase area has beautiful spring growth and autumn colors, and nearby Ruriko-in Temple has special openings in spring and fall.
From Yase to the top of Mount Hiei, enjoy the 15-minute ride, starting on the Eizan Cable Car, the steepest ride in Japan, followed by a transfer to the ropeway all the way to the top of the 840-meter summit. The summit is about six degrees Celsius cooler than downtown Kyoto, so it may feel cold at the top. > MAP

Admission:

Demachiyanagi Station to Yase-Hieizanguchi Station (Eizan Electric Railway): Adults: 260 yen, children: 130 yen
Eizan Cable Car: Adults: 540 yen, children: 270 yen
Eizan Ropeway: Adults: 310 yen, children: 160 yen
9:07 – Depart from Demachiyanagi Station on the Eizan Electric Railway
9:21 – Arrive at Yase-Hieizanguchi Station

9:50 – Get on the Eizan Cable Car
10:02 – Transfer to the Eizan Ropeway
10:05 – Arrive at the summit
Garden Museum Hiei

When you get off the ropeway, the west gate of Garden Museum Hiei welcomes you, a museum created around the theme of French impressionist paintings. Covering 1.7 hectares, the garden museum is excellent for a stroll to see the gardens and landscapes created in the style of French impressionist paintings, such as Monet's The Water-Lily Pond. The grounds include locations with excellent views of Lake Biwa and the Kyoto cityscape, as well as a café and gift shop. > MAP

Hours:

10:00 a.m. to 5:30 p.m. (last entry at 5 p.m.)

Admission:

April 15 to November 19
Junior high school students and older: 1,030 yen
Elementary school students: 515 yen
November 20 to April 14
Junior high school students and older: 515 yen
Elementary school students: 260 yen
Shuttle bus to Enryaku-ji Temple

Take the shuttle bus to World Heritage Site Enryaku-ji Temple.
Right outside the east gate of Garden Museum Hiei is a shuttle bus loading zone. The shuttle bus departs from the Mount Hiei summit about once an hour, visiting the East Pagoda (To-do), the Enryaku-ji Temple Bus Center, West Pagoda (Sai-to), Mine-michi and Yokawa. Throughout these areas are structures belonging to Enryaku-ji Temple.

Get the 1-day ticket for savings on this itinerary!

Admission:

Adults: 160 yen, Children: 80 yen
Shuttle bus day pass for Mount Hiei: adults: 800 yen, children: 400 yen
11:00 – The shuttle bus departs from the Mount Hiei Summit bus stop
11:06 – Enryaku-ji Temple Bus Center bus stop
Enryaku-ji Temple

Enryaku-ji Temple was constructed on Mount Hiei by Saicho (also known as Dengyo Daishi) in 788. Some 150 temple buildings dot the mountain temple grounds, which cover 500 hectares. They are divided into the three areas referred to as the Eastern Pagoda (To-do), the Western Pagoda (Sai-to) and Yokawa, each with its own central temple. Some of the attractions are introduced below, but please note that it would take a full day to see everything, so we recommend picking out what you would like to see in advance.

Konpon Chu-do

Note: Konpon Chu-do is currently undergoing renovation work.
The central temple of the East Pagoda, Konpon Chu-do, is also the main hall for all of Enryaku-ji. Completed in 1642, the current building enshrines the fumetsu no hoto, an eternal Buddhist light that has never gone out since it was first lit when Enryaku-ji Temple was established 1200 years ago. > MAP

Hours:

East Pagoda Area:
March to November: 8:30 a.m. to 4:30 p.m.
December: 9:00 a.m. to 4:00 p.m.
January and February: 9:00 a.m. to 4:30 p.m.
West Pagoda and Yokawa Area:
March to November: 9:00 a.m. to 4:00 p.m.
December: 9:30 a.m. to 3:30 p.m.
January and February: 9:30 a.m. to 4:00 p.m.

Admission:

Pass to To-do, Sai-to and Yokawa in Enryaku-ji Temple:
Adults 700 yen,
Junior high and high school students 500 yen,
Elementary school students: 300 yen
Lunch at Tsukuri Soba

Ichigu Kaikan is a resting place for visitors and there is no entrance charge. Inside visitors can find a 3-D model of Mount Hiei, and a video that introduces Enryaku-ji Temple. There is also a soba restaurant called Tsuruki Soba (open from 9:30 a.m. to 4:00 p.m.) downstairs for lunch.

Other sights near the Enryaku-ji Temple Bus Center

Mount Hiei Kokuho-den
National treasure storage building
Kokuho-den stores a great number of cultural treasures, including Buddhist statues, pictures and writings that make up a part of the heritage of Enryaku-ji Temple. National Treasures, Important Cultural Properties of Japan, temple treasures and other cultural properties are exhibited here. > MAP

Enryaku-ji Kaikan
Enryaku-ji Kaikan is operated by the temple administration and provides accommodations. Lodging offerings include a program for people who wish to participate in Buddhist practices. Meals are available to the public, but reservations are required at least two days in advance. Enjoy traditional Buddhist vegetarian cuisine in a restaurant that looks out over Lake Biwa. > MAP
12:06 – Leave the Enryaku-ji Temple Bus Center
12:19 – Arrive at the Yokawa bus stop
Yokawa Chu-do Hall
Gansan Daishi Residence

Yokokawa Chu-do Hall
Located about four kilometers from Sai-to is Yokawa Chu-do, the main hall for the Yokawa area. The building was reconstructed in 1971 in the stage-like butai-zukuri style with a brilliant, impressive vermillion lacquer finish. > MAP

Shiki Ko-do (Gansan Daishi Residence)
Shiki Ko-do was the residence of the monk Ryogen (912-985), known also as Gansan Daishi. It is said that he is the one who initiated the practice of o-mikuji, written fortunes with predictions of good or bad luck that are so common in Japan today. Regardless of who first began the practice, however, Shiki Ko-do is where this tradition was born. A talisman for warding off evil spirits depicting Ryogen (known also as Tsuno Daishi) is located here. > MAP

Other Places to Visit

Here are some additional sightseeing locations not part of the tour that can be found at the various bus stops. Separate from the shuttle bus, there are buses that run regular routes between Mount Hiei and the urban Kyoto area (Kyoto Station, and Sanjo Station and Demachiyanagi Station on Keihan Electric Railway). These buses stop at the following locations in the Mt. Hiei area: Yumemi-ga-oka, the Enryakuji Bus Center, To-do and Mount Hiei summit. They share three of these stops with the shuttle bus: the Enryakuji Bus Center, To-do and the Mount Hiei summit.
Descend to Lake Biwa on the Sakamoto Cable Car

The line from Mount Hiei down to Sakamoto in Shiga Prefecture on the Lake Biwa side of the mountain is about two kilometers, the longest cable car ride in Japan. The ride takes 11 minutes to connect to Cable Sakamoto Station at the base of the mountain. The route includes a view directly over Lake Biwa.
Once down, the area around Sakamoto has many wonderful gardens in the section containing the satobo, or residence for monks. In times of yore, this one served as a home for retired monks who had once practiced on Mount Hiei. A 15-minute stroll through the town of Sakamoto will bring you to Sakamoto Station on the Otsu Line of Keihan Electric Railway. A two-car train takes you on a fun train ride to Hamaotsu Station. > MAP
13:30 – Depart from the Yokawa bus stop
13:44 – Arrive at the To-do bus stop and transfer to the Sakamoto Cable Car (five-minute walk)

14:00 – Depart from Cable Enryakuji Station
14:11 – Arrive at Cable Sakamoto Station

14:45 – Departure from Sakamoto Station on the Keihan Electric Railway Otsu Line
15:01 – Get off at Hamaotsu Station
Cruise on Lake Biwa on the pleasure boat Michigan

Weigh anchor from Hamaotsu Harbor on the pleasure boat, the Michigan. Easily visible from Hamaotsu Station on Keihan Electric Railway, Hamaotsu Harbor is a five-minute walk. The 3:30 departure is a short, one-hour cruise. Taking a boat ride across Japan's largest lake is exhilarating. And don't forget to look back at Mount Hiei, which you just came down from. > MAP

60-minute Michigan cruise: operating daily from around March 13 to November 30
For details about fares and departure times, please refer to the official website.
Dinner at the Biwako Hotel

The largest building adjacent to Otsu Harbor, Biwako Hotel plays an important role as part of Hamaotsu A-qus, a leisure complex, and as guest lodging for Shiga Prefecture and Otsu. A-qus provides a variety of entertainment, including a movie theater, bowling alley, and shops and restaurants. All rooms in Biwako Hotel have a balcony with a view of Lake Biwa, and are spacious enough to make you feel like you're at a resort. Cuisines available in the hotel restaurants include general Japanese, teppanyaki, sushi, French and buffet. The finest ingredients are brought in from around the country, and the offerings include beef and rice raised in Omi. > MAP
Special tickets for visiting Mount Hiei
Mt.Hiei Sightseeing Pass

The Mt. Hiei Sightseeing Pass provides unlimited rides on the transportation needed to see Mount Hiei: Keihan Railway, the Eizan Main Line, the Eizan Cable and Ropeway, the Mount Hiei Shuttle Bus, the Sakamoto Cable, Kojak buses (between Cable Sakamoto and Sakamoto Stations on Keihan Railway), and the Kyoto City Subway between Misasagi and Sanjo Stations. A ticket for admission to the grounds of Enryaku-ji Temple and complimentary treats are also included.
Priced at 3,300 yen for adults and 1,600 yen for children, the pass may be purchased at any Keihan Railway station (excluding stations on the Otsu Line).